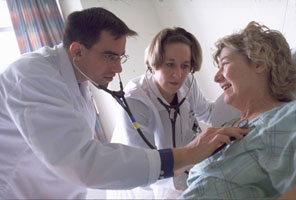 Yesterday, at the Board of Directors meeting of New York City's Health and Hospitals Corporation (HHC) it was announced that St. George's University in Grenada has been selected as the exclusive international medical school to utilize the HHC system for training its third and fourth year medical students.
Students from other non-US schools will be allowed to finish currently scheduled rotations, but under the terms of the agreement, no new rotations will be scheduled for any students other than those attending St. George's and U.S. accredited medical schools.
Under the terms of the agreement and over the course of the intended 10 years of the contract, St. George's University will pay HHC an estimated 100 million USD, and will be guaranteed a minimum of 600 training positions.  This is the largest single affiliation agreement for the  clinical training of SGU's clinical students in the University's history.
Chancellor Charles Modica spoke at the meeting and voiced his enthusiasm for this agreement, "This agreement will ensure that New York City hospitals will continue to recruit the finest international medical graduates for their residency programs, so vital for the city's excellent health care.  The agreement makes HHC a major partner in the education of St. George's University medical students as it assists in the training of tomorrow's doctors."  Chancellor Modica pointed out that although St. George's University does not have enough students at present in their clinical program to fill these HHC training slots, the agreement allows for the slow phasing in of SGU's larger classes over the next two years.     Chancellor Modica finished his remarks with  "St. George's University is proud to enter into this agreement.  We know that this is a win-win for the University, its students, the HHC and the people of New York City."
The New York City Health and Hospitals Corporation (HHC), is the largest municipal hospital and health care system in the country which serves 1.3 million New Yorkers and nearly 400,000 who are uninsured.  HHC provides medical, mental health and substance abuse services through its 11 acute care hospitals, four skilled nursing facilities, six large diagnostic and treatment centers and more than 80 community based clinics.
Published on 7/27/07
https://www.sgu.edu/wp-content/uploads/2016/10/Two-Doctors-with-Patient.jpg
200
296
smashm3233
https://www.sgu.edu/wp-content/uploads/2020/02/sgu-logo-grenada.svg
smashm3233
2007-07-27 19:12:56
2017-01-18 02:48:59
NYC's Health and Hospital Corporation and St. George's University Agreement