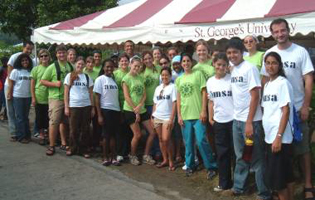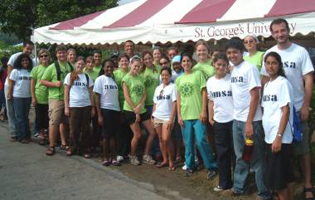 On Saturday, November 10th over 60 medical and veterinary medical students joined forces to assist the community of Dierre Morne, St. David in Grenada. "One World, One Health, One Medicine" Project was the University's first health clinic providing both human and animal health care to those who attended.  The event was the brainchild of third term vet student Brittany King, who was inspired by a woman who attended a previous vet clinic. While appreciative of the care her pet received she expressed concern that the health care and education of the pet owners themselves was being overlooked.
Brittany took these remarks to heart.  As a class representative for the Student Affiliate of the American Veterinary Medical Association (SAAVMA), Brittany is well aware of the convergence of animal, human and ecosystem health and the importance of the "One World, One Health, One Medicine" concept.  Armed with the belief that improving health care worldwide is a collaborative effort, she approached American Medical Student Association (AMSA) President Asad Bandealey about a health clinic that would address the needs of both humans and animals.   Enthusiastic about this initiative, both began to solicit volunteers from their respective schools, raise money, seek donations and select a location.
With the help of SGU faculty, student volunteers and clinicians from the Veterinary Teaching Hospital (VTH), an impressive health clinic for humans and animals was successfully created.  One week prior to the event, local radio, television and print advertisements promoted the event. SGU's Communications Office facilitated this by producing the flyer, scripting and placing the radio and television advertisements and inviting the media, as is the case with every health fair.  "This," said Brittany "was critical to the success of the health clinic."  One local television station actually attended the event.
Proudly wearing bright green t-shirts designed by King, all volunteers began their day with enthusiasm and a desire to make a difference. Two tremendous tents were erected, accommodating medical and veterinary medical student volunteers and their patients.  Medical students also used the Parish church to ensure privacy for patients during medical exams and screenings.
Throughout the day, 40 medical student volunteers treated 140 patients, including 20 senior citizens at a local nursing home and five home-bound patients.  Tests were administered for blood pressure, blood glucose, eyes and hearing.  Breast cancer screening and self-examination techniques, along with patient education and children's health were also part of the day's activities.  AMSA was joined by IEA, the SGU academic honor society, SGU's Pediatrics Club and Women in Medicine (WIM), a group under the AMSA umbrella.  According to Stephanie Muriglan, the President of WIM, her group's mission is not just medicinal: "At these health fairs, WIM has set a goal to bring awareness to women about the importance of these clinical measures. Knowledge and control over their reproductive health is an important form of empowerment."
Twenty veterinary medical students and seven clinicians from the VTH treated more than 60 dogs and cats through a variety of treatments including oral dewormers, mange treatments and vaccinations.  Brittany explained that they used a new three-year continuum DAP-R vaccine from Intervet, which will keep the animals protected from distemper, rabies, adenovirus and parvovirus longer than the previous one-year vaccine.   The animals' owners also received Banfield leashes, collars and bandanas, in addition to a wealth of information about the health of their animals.  The veterinary medical students were surprised but not daunted by the attendance of six goats joined together by a rope.  With no large animal vaccines available, volunteers did their best to examine the animals and educate the owner about their care.
The impact of the "One World, One Health, One Medicine" Health Fair has reached beyond Grenada. Intervet, the supplier and sponsor of the veterinary vaccine DAP-R, matched the 200 vaccines used at St. David with a donation of 200 vaccines for animals in Africa.   This is proof that a unified effort within the broader health science profession is the most powerful and effective tool in improving health care worldwide.
For more photos of the "One World, One Health, One Medicine" Health Fair….
Published on 12/10/07
https://www.sgu.edu/wp-content/uploads/2016/10/Group-Picture-of-One-health-One-Medicine2007.jpg
200
315
smashm3233
https://www.sgu.edu/wp-content/uploads/2020/02/sgu-logo-grenada.svg
smashm3233
2007-12-10 16:57:38
2017-01-18 02:38:33
"One World, One Health, One Medicine" Clinic a Success