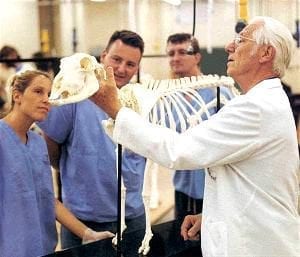 There's good news for aspiring veterinary students: the scope and variety of careers in the vet industry is booming more than ever, thanks to public- and global-health practices. Comprehensive programs, such as those at St. George's University, offer courses in general medical topics, in addition to the clinical skills needed for diagnosing and treating animal illnesses.
What can you do with a veterinary degree? A lot more than you might think…
General Medicine: Most new vet students have this in mind when they enter the field – treating animals such as cats, dogs, horses, or birds. Some focus on farm animals, while others go into academia.
Professional Specializing: As technology advances, so do the options for specialization. More veterinarians are focusing in traditional areas (equine, farm, small animals), exotic (zoo animals, wildlife), poultry, and aquaculture. Others choose to explore orthopedics, cardiology, and ophthalmology.
Animal Welfare: Career paths in wildlife conservation and zoo-animal welfare are growing rapidly. Similar paths lead to becoming an inspector of operations where animals are raised for human consumption, or working on the front-line in the fight against agri- and bio-terrorism.
Global Health: Many veterinarians find themselves working with M.D. colleagues on the extraordinary research effort in the battle against diseases that travel between species, such as BSE ("mad cow disease"), avian flu, or SARS.
Uniting Veterinary Medicine & Global Health
Veterinary medicine offers no shortage of opportunities. And prospects for veterinarians with postgraduate training in public health are virtually unlimited. St. George's University offers a joint DVM/MPH degree designed for veterinary students with a desire to focus on global health. The mission is to improve the health, quality of life, and well-being of individuals and communities through education, research, and services in public health and preventive medicine. Specific training includes:
Epidemiology
Biostatistics
Environmental health
Health/policy management
Behavioral sciences
Electives in maternal/child health, chronic disease, emerging infectious diseases, and occupational health
Ahead of the Curve
St. George's is on the cutting-edge of the ties that bind traditional and veterinary medicine. Even nationally recognized organizations, including the American Medical Veterinary Association, have issued a call-to-action for reinventing traditional medical mindsets.
"Animal health is truly at a crossroads. Its convergence with human and ecosystem health dictates that the 'one world, one health, one medicine' concept must be embraced," said Dr. Roger K. Mahr, addressing the American Medical Veterinary Association, as he assumed presidency of the organization in August 2006. "We need our colleagues in human medicine, public health, and the environmental health sciences. Together, we can accomplish more in improving global health that we can alone, and we have the responsibility to do so."
Broad Training, Boundless Opportunity
SGU students who complement veterinary education with public health offerings enter the workforce with a distinct advantage. Federal agencies, in particular, see the value of the blended skill set, including:
U.S. Public Health Service
Centers for Disease Control
National Institutes of Health
Food and Drug Administration
U.S. Armed Forces
U.S. Department of Agriculture
State, county, and local departments of health
"The University's approach to the teaching of medicine and programs that allow our medical and veterinary students to collaborate collegially on important scientific study make St. George's truly distinctive in the world of education," says Margaret Lambert, Dean of Enrolment Planning. "Our world is interdependent. People and animals are intricately linked – for food and for companionship. St. George's broad training and public health offerings translate into wonderful opportunities for our students."
For more information on St. George's University School of Veterinary Medicine, please visit www.sgu.edu
Published on 09/01/2006
https://www.sgu.edu/wp-content/uploads/2016/10/Veterinary-Medicine-Professor-with-Skeleton.jpg
257
300
smashm3233
https://www.sgu.edu/wp-content/uploads/2020/02/sgu-logo-grenada.svg
smashm3233
2006-09-01 20:27:36
2017-01-18 03:06:01
Opportunities for Veterinary Grads Boom as 'Global Health' Initiatives Gain Momentum