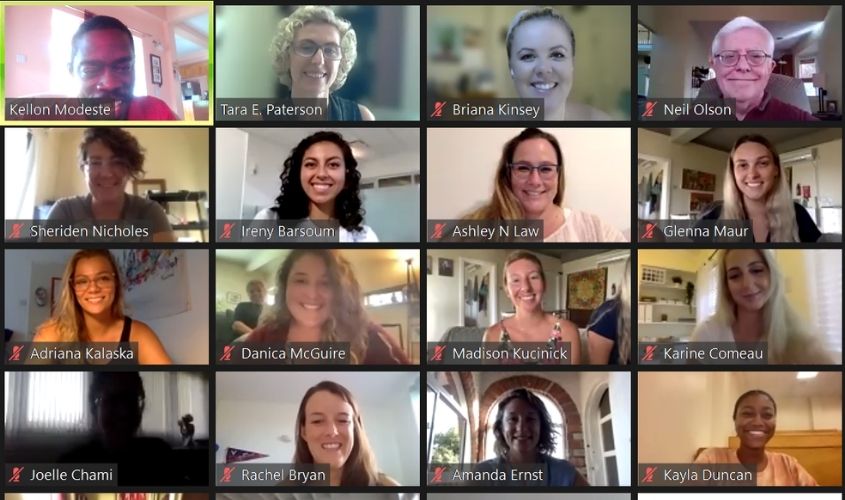 The School of Veterinary Medicine hosted its bi-annual SVM Awards Ceremony honoring students, faculty, and staff for their outstanding achievements during the fall term. Twenty-four different sets of awards were presented during the virtual event, to students who demonstrated exceptional academic achievement, professionalism, and work ethic as well as to faculty and staff who demonstrated remarkable service and commitment to veterinary education. 
"It's such an important aspect of the School of Veterinary Medicine to honor the very special achievements of students, faculty, and staff," said Dr. Neil Olson, dean of the SVM. "With all of the challenges presented while learning during the current global pandemic, what better way to lift the spirits than to acknowledge the efforts and sacrifices they've made to make this program and our students successful." 
In addition to Dean Olson, Dr. Glen Jacobs, provost of SGU also addressed the online crowd. He shared his heartfelt congratulations to all the winners and expressed his hope to attend the next award ceremony in person. "This is our fourth virtual awards ceremony, but I cannot wait for it to be held face-to-face in Grenada and we can all celebrate together again." 
The ceremony also recognized 24 new inductees into the Alpha Delta Chapter of the Phi Zeta Honor Society—11 from Term 5, 13 from Term 6, and three faculty members. Seven students were awarded Dean Olson's Award for Academic Excellence, which is given to Term 3 students with the highest GPA (as of the end of Term 2) and who embody professionalism. 
"It's such a joy and pleasure to bring everyone together to celebrate excellence amongst our faculty, staff, and students," said Dr. Anne Marie Corrigan, associate dean of academics, during her closing remarks. "It truly shows the passion and love for what we do on a daily basis in veterinary medicine and that you've worked so hard to be successful." 
SGU Island Veterinary Scholars Program (Boehringer Ingelheim)  
Allison Kearney, Adrian Jones 
Outstanding Colleague Awards 
Term 1: Miller Young 
Term 2: Giana Gigantino 
Term 3: Molly Ginn 
Term 4: Leandra Margolies 
Term 5: Sheriden Nicholes 
Term 6: Brittney Kilgore, Adriana Kalaska, Marc Bremmer 
Dean Olson's Award for Academic Excellence 
Selina Nackley, Amanda Ernst, Natalie Hollo, Anca Gagliardo, Logan Bernstein, Adrian Jones, Maureen Kruhlak 
Adrienne Lotton Memorial Award 
Brian Greene 
Zoetis Awards
Zoetis Award for Research Excellence: Daniel Fitzpatrick    
Zoetis Revolution Awards of Excellence 
Small Animal Internal Medicine: Gemma Carter 
Small Animal Surgery: Adriana Kalaska 
Equine Medicine and Surgery: Ashley Law 
Food Animal Medicine and Surgery: Tiara Key 
Scholarship of Service Award: Yvonne White 
Student Research Award: Madison Kucinick 
SVM Alumni Scholarship award: Maggie Macpherson 
Giant Paws Giant Hearts Foundation "Hercules" Award  
Matthew Pickens 
PAWS Recognition for Term 6 Facilitators 
Maggie Macpherson, Erika Brewer, Gemma Carter, Marc Bremmer, Priyanka Mehta, Luca Mak, Thomas Conley, Corinne Ross, Jessie Whitfield, Louis Carusillo, Colleen Courtney, Vianca Hernandez 
Veterinary Public Health Committee 
One Health One Medicine Community Leader Award: Ashley Wyman 
Student Organization Awards
The Feral Cat Project

  
Most Valuable Trapper: Elizabeth Peck 
Most Valuable Faculty/Staff: Imika Pascal 
SGUSVM Large Animal Society 
Most Valuable LAS Member Award: Bianca Mower 
 SVM Wellness Committee 
Wellness MVP Award: Dr. Adria Rodriguez 
AAARF: Angels in Armor Animal Rescue Fund 
Friends of AAARF Awards: Sarah Mikhail, Taryn Williamson  
SCACVIM: Student Chapter of the American College of Veterinary Internal Medicine 
Internal Medicine MVP Award: Bethany Sakowski 
SVECCS:  Student Chapter of the Emergency and Critical Care Society 
Outstanding Member Award: Sisina Macchiarelli 
Outstanding Clinician Award: Dr. Flavia Restitutti 
SNP: Spay Neuter Pothound  
Pothound Student Hero Award: Lauren Abrams 
Pothound Faculty/Staff Hero Award: Quacy Matthew 
SCACVP: Student Chapter of the American College of Veterinary Pathologists  
The MVP (Most Valuable Pathologist) Award: Taryn Paquet 
EWS: Exotics and Wildlife Society 
Most Valuable Primate Award: Brianna Jacobs 
VBMA: Veterinary Business Management Association 
Impact Award: Gemma Carter 
The Pinckney Parasitology Award 
Letty Bonilla 
DES Recognition Awards 
Brin Cerbone, Kisten Braccili, Cassandra Morales, Angelica Melara, Daniel Ingram, Courtney Kennedy 
Alpha Delta Chapter of the Society of Phi Zeta 
Fall 2021 Inductees 
Term 5 Inductees
Ireny Barsoum, Natasha Brown, Rachel Bryan, Karli Collins, Alex Chang, Karine Comeau, Kayla Duncan, Chloe Eaton, Priscilla Leinberger, Glenna Maur, Lauren Pierce 
 Term 6 Inductees
Sarah Beckner, Remington Campbell, Joelle Chami, Iesha Clouden, Thomas Cronly, Sara Hyman, Jennifer Klapko, Ashley Law, Danica McGuire, Erin Rickey, Alyssa Ungemach, Jessie Whitfield, Bahareh Ziai 
Phi Zeta Specialty Faculty Recognition for Their Work in Promoting Research and Scholarship  
Veterinary faculty: Dr. Stacey Byers, Dr. Satesh Bidaisee 
Honorary faculty: Ms. Elizabeth Peach 
SGU SVM Outstanding Staff Awards 
Technical staff: Keshia John  
Administrative staff: Cindy Edwards  
Hill's Golden Apple Teaching Award 
Dr. Stacey Byers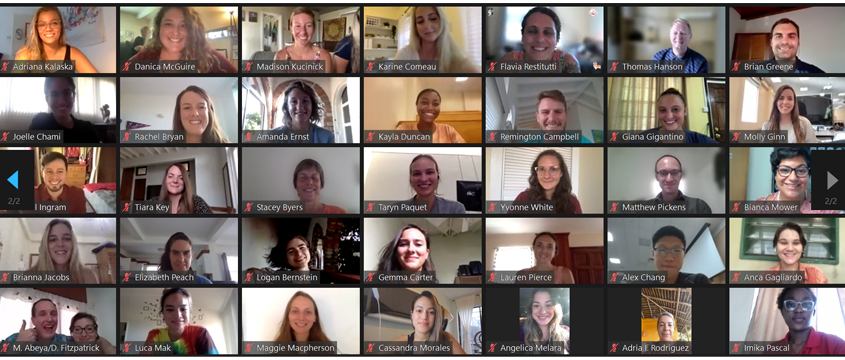 – Ray-Donna Peters 
Related Reading
https://www.sgu.edu/wp-content/uploads/2021/12/Untitled-design-2021-12-10T102334.378.jpg
500
845
rpetersgmail
https://www.sgu.edu/wp-content/uploads/2020/02/sgu-logo-grenada.svg
rpetersgmail
2021-12-10 10:36:48
2021-12-10 10:37:13
Outstanding Achievements Celebrated During SVM Awards Ceremony