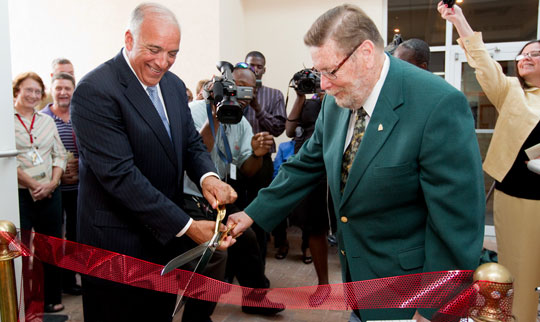 St. George's University hosted a dedication ceremony on Wednesday, March 9, 2011 at the site of its new science lecture hall which will now be known as Patrick F. Adams Hall. Adams Hall houses the University's largest lecture facility with a seating capacity of 820 and state-of-the-art A/V support. Father Harris attended the ceremony and handled the invocation and Bishop Darius was on site to formally dedicate and bless the newly named building.
Patrick Adams, the founding and senior partner of his law firm, Patrick F. Adams, P.C. in New York, is a co-founder, Trustee and officer of St. George's University. Together with Louis Modica and Edward McGowan, Mr. Adams agreed to underwrite Chancellor Modica's dream of building an independent School of Medicine in Grenada more than thirty years ago. He brought his significant experience in business and law to the fledgling venture as a member of its first Board of Trustees. His guidance and support helped shape St. George's and has assured the University is well positioned to continue its growth and commitment to its students, its host nation, and the burgeoning community of St. George's University alumni around the globe.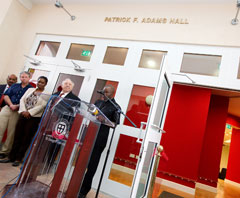 "When I recall the beginnings of this university, I am deeply grateful to the support of the founding members, and Patrick Adams specifically," recalls Chancellor Modica. "Not only was Patrick instrumental in helping to make this University a reality, but his vision, time, and support were an invaluable resource for me as the University emerged from its humble beginnings. I am confident that the University would not have become the innovative and international center of education that it is today without his early and ongoing support."
Returning from U.S. military service after the Korean War in 1955, Patrick Adams came back to New York where he has been practicing law for over fifty years. His devotion to public service has included tenure as one of the first Legislators elected in Suffolk County, New York. Patrick has been honored with appointments to the Council of Stewarts of the Diocese of Rockville Centre, a member of the Development Committee of the Diocese of Rockville Centre and Chairman of the Bishops Annual Appeal for the Diocese of Rockville Centre in 1999. In 1971 he was the recipient of the Mater Dei Award presented by the Most Reverend Walter P. Kellenberg, Ordinary of the Diocese of Rockville Centre. In 1996, John Cardinal O'Connor inducted him and his wife Angela, as Knight & Lady of the Holy Sepulcher.
In addition to his duties as a Trustee of St. George's University School of Medicine, Mr. Adams is also the School of Medicine Corporate Secretary and General Counsel. Of all these accomplishments, his proudest is his marriage of more than forty-five years to his wife Angela. Together they have raised seven children and are the proud grandparents of twelve grandchildren and two great-grandchildren.
What began as a shared dream has become an international University that has educated more than 11,000 people worldwide. Patrick's lifelong devotion to St. George's University is honored with this dedication.
https://www.sgu.edu/wp-content/uploads/2016/10/news-patrick-adams-new-science-hall.jpg
322
540
VS
https://www.sgu.edu/wp-content/uploads/2020/02/sgu-logo-grenada.svg
VS
2011-03-10 19:07:35
2017-01-18 01:21:30
Patrick F. Adams Honored with Dedication of New Science Hall