The scene at the finals of the 2014 SGU Knowledge Bowl was a familiar one – Presentation Brothers Colleges (PBC) once again dueling with Westmorland School in the finals. In the teams' second-ever showdown in the championship round of the popular inter-secondary school competition, PBC used a swift and aggressive final round to erase an early deficit and notch a 52-51 victory. With it, PBC secured the coveted SGU Knowledge Bowl Challenge trophy and $15,000 cash prize for the school.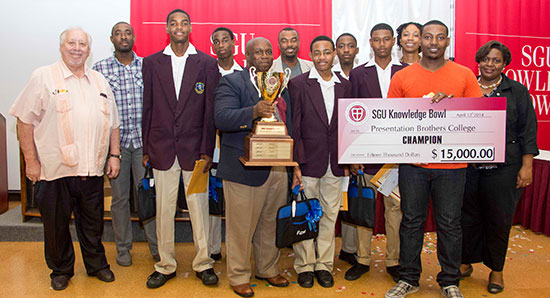 n the nine years of the SGU Knowledge Bowl competition, dubbed the 'intercol of academia,' PBC has competed in the finals four times and this is its third win. In 2012, they went toe to toe with Westmorland for the first time and won by a two-point margin. The team members, Khalil Buckmire, Paul Phillip, Arnold John, Chike Dottin, and Justin Jeremiah, each received a laptop and, together with their coaches, received a $500 cash prize and a certificate of distinction for their stellar performance.
Westmorland has shined in the past four years of the SGU Knowledge Bowl competition, securing a finals appearance three times and capturing the title in 2011. For placing second, the team won $7,500 for the school and prizes and certificates of achievement for team members, Christian Hadeed, Natalie Harford, Kareem Antoine, Sanjali Mahbubani, and Shahana Debnath, as well as their two coaches.
The two semifinalist schools, St. Joseph's Convent, St. George's, and Grenada Boys Secondary School, each won $3,000 and a computer system for their school along with certificates of merit and prizes for the team members.
This season of SGU Knowledge Bowl began in January 2014 with 18 secondary schools. The high-profile quiz competition is open to third, fourth, and fifth form students from Grenada's secondary schools and tests them on the Caribbean Secondary Education Certificate (CSEC) syllabi from a broad range of subjects as well as current affairs.
While SGU and Flow are the two primary partners in the production of the competition, the Grenada Co-operative Bank has given continuous corporate support over the past 9 years. Additional support has been provided by Glenelg, Courts Grenada Ltd., Digicel, Lucozade, Spice Island Beach Resort, Petite Anse Hotel and La Sagesse Nature Center. The involvement of these corporate partners has been integral to the success of the SGU Knowledge Bowl and is testimony of their commitment to community development.
https://www.sgu.edu/wp-content/uploads/2020/02/sgu-logo-grenada.svg
0
0
jrichardsink
https://www.sgu.edu/wp-content/uploads/2020/02/sgu-logo-grenada.svg
jrichardsink
2014-05-05 19:25:46
2017-01-17 23:56:30
PBC Claims Their Third SGU Knowledge Bowl Win