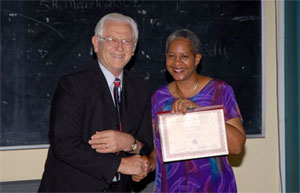 Dr. Rhonda Pinckney, SVM Assistant Dean of Students, has recently been selected by unanimous decision as President-Elect for the Society of Phi Zeta. Established in 1925, Phi Zeta is a US based Honor Society of Veterinary Medicine that is internationally recognized and promotes research and scholarship in areas of animal welfare and disease.
Dr. Pinckney's appointment as President-Elect is a great honor for her individually, and allows SGU to bask in her elevation to this post.  This is the first time that a faculty member of a school outside of the US has been elected to this influential position.
Dr. Pinckney became aware of her nomination during an unexpected meeting with long-time friend and colleague Dr. Charles Hendrix, the outgoing President of Phi Zeta.  Dr. Hendrix, whom Dr. Pinckney had not seen in 13 years, was among the honored guests at the spring '07 induction ceremony of twelve Phi Zeta students into the Alpha Delta Chapter of the Society. In 2005, SGUSVM's Alpha Delta Chapter became the first international chapter of The Society of Phi Zeta and the 28th chapter to be formed.
Dr. Hendrix explained that he was impressed by the University, its students and faculty, and the Island.  He continued to say that he had high hopes of SGU becoming more involved in Phi Zeta, and that there are plans to incorporate more international veterinary schools into the Society. Dr. Pinckney's role as President-Elect is a significant step toward that goal.
While both the nomination and appointment came as a surprise, Dr. Pinckney is proud and excited to begin her position as President.  Her two-year appointment becomes effective in 2010.
As Professor of Parasitology and Assistant Dean of Students, Dr. Pinckney maintains a rigorous schedule.  She teaches six hours of lab per week, 41 to 44 lecture hours per semester and advises two graduate students.  Her upcoming role in Phi Zeta will require significant planning, as she expects to be traveling extensively throughout the US, presiding over Phi Zeta meetings, attending AVMA conferences and visiting schools represented by the Society.
A top priority for Dr. Pinckney is to assist SGU with its efforts to acquire accreditation with the American Veterinary Medical Association (AVMA) and expand its research efforts.  She is confident that her role as Phi Zeta President will be influential in the University's endeavors.
Dr. Pinckney was born and raised in New York.  She attended Purdue University as an undergraduate, received her DVM at Tuskegee University, her PhD at Auburn University and her Master's of Parasitology from Oklahoma State University.  Prior to her position at St. George's University School of Veterinary Medicine, Dr. Pinckney was an Assistant Professor at the University of Wisconsin-Madison.
Published on 10/25/07
https://www.sgu.edu/wp-content/uploads/2016/10/Dr-Sis-shakes-hands-with-Dr-Pinckney.jpg
193
300
smashm3233
https://www.sgu.edu/wp-content/uploads/2020/02/sgu-logo-grenada.svg
smashm3233
2007-10-25 16:25:02
2017-01-18 02:42:30
Phi Zeta Selects St. George's University School of Veterinary Medicine's Dr. Rhonda Pinckney as President-Elect