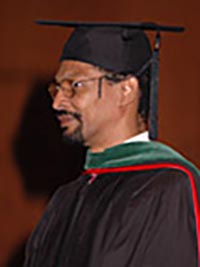 After serving St. George's University as a faculty member for the past 11 years, Dr. Philip Finlay regretfully resigned from his post as Associate Professor of Medicine and Director of Medical Education at the Clinical Teaching Unit in December 2003 in order to join his family in the United States. Dr. Finlay, a Grenadian by birth, has been connected to the University since he enrolled in the School of Medicine as a student in 1979.
"The University will miss him greatly," said Dr. Paddy Ross, Dean of Clinical Studies in the Caribbean. "Dr. Finlay is a person of immense integrity. A born teacher, he is incredibly conscientious and people enjoyed his teaching sessions."
Growing up in Grenada, Dr. Finlay was always intrigued by medicine. After earning his undergraduate degree from the University of the West Indies, he returned to Grenada and was accepted to St. George's University School of Medicine. Overcoming financial obstacles, he received a government scholarship and began his studies. "This was the best thing that happened to me," Dr. Finlay said. "St. George's has enabled me to live two lives – as a teacher and as a doctor."
After graduating with an MD degree in 1983, Dr. Finlay interned at the General Hospital in Grenada. He then did his residency in Internal Medicine and a fellowship in Infectious Disease at the University of Miami/ Jackson Memorial Hospital. After completing his postgraduate training abroad, Dr. Finlay returned to Grenada in 1992 and joined the faculty of St. George's and became Director of Medical Education at the General Hospital.
Dr. Finlay was instrumental in the organization of the internship program at the General Hospital in Grenada and the training of the young doctors. When Dr. Finlay was interning at the Hospital in the early 80's, the internship program had not been formally organized. When he joined the faculty, he made this one of his goals; and he succeeded. Today, about ten interns per year work in the Hospital for one year before beginning their residencies.
Being a part of the University for so long, Dr. Finlay witnessed the many changes and improvements that have made the University what it is today. "There have been huge changes within the University and it's amazing to see what it has become," Dr. Finlay commented. "The administration has made a serious commitment to quality from day one and they're continuing to make the school better and better."
In addition to the work he has done for the University, Dr. Finlay is a well recognized physician in the Grenadian and Caribbean professional communities and beyond. As Director of the National Infectious Disease Control Unit in Grenada's Ministry of Health from 2002 to 2003, Dr. Finlay worked closely with other stakeholders to formulate a national plan to manage HIV/AIDS in Grenada. He liaised with the Clinton Foundation to start an HIV Clinic, which became a reality in March 2003 and provides free treatment and medication for all HIV/AIDS patients. He served the Grenada Medical Association for many years and is a member of the American College of Physicians, the American Medical Association, and an associate member of the Infectious Diseases Society of America.
Dr. Finlay has joined his wife and family in the United States, where they have been since 2001. He is currently working in the Central Texas Veterans Health Care System.
"I hope that some sort of relationship can continue so that I am never too far from St. George's University," Dr. Finlay said. "I always want to have an association with the school. Hopefully I'll return as a visiting professor soon."
Published on 10/06/2004
Save
https://www.sgu.edu/wp-content/uploads/2016/10/Philip-Finlay-Side-Profile.jpg
267
200
smashm3233
https://www.sgu.edu/wp-content/uploads/2020/02/sgu-logo-grenada.svg
smashm3233
2004-10-06 12:57:43
2017-01-18 03:29:37
Philip Finlay Leaves University to Join Family in U.S.