Their paths, and their dreams, led them to Grenada not long ago, and on Sunday, the St. George's University 2016 graduating class convened once again at David Geffen Hall at Lincoln Center in New York City to celebrate the end of one journey and the beginning of another.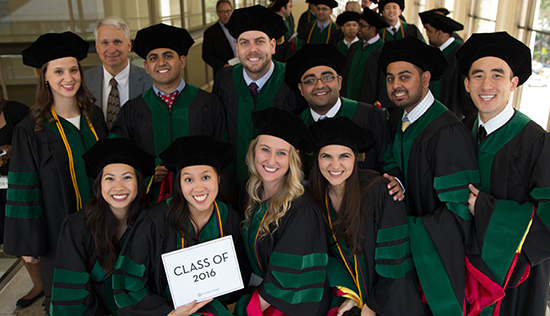 "You persevered and you did what you had to do and then some," Dr. Modica said. "You have my utmost respect and admiration, and everyone in this room feels the same way about you."
Attending his first commencement ceremony since being appointed University President and CEO, Dr. G. Richard Olds explained how physicians are viewed as heroes in countries around the world, not for their treatment of individuals but for the steps taken to address bigger challenges.
"You are now very well-trained physicians and will go on to wonderful professional careers," Dr. Olds said. "However, remember that what we do as physicians only represents about 10 percent of the determinants of health. There is far more to health than what we do as professionals, and we must make sure we too are a part of improving the health of all humanity. I congratulate you on becoming physicians today, but I also hope that we are graduating some heroes today as well."
The 2016 class will set off for residency this summer, but not before gathering once more in New York City, where they joined a network of more than 14,000 physician graduates from St. George's University.
"It's great to be here and be around so many bright minds who worked just as hard as you," said Seth Garrett, MD SGU '16. "I feel a sense of accomplishment and relief to a degree. Now we can move forward and actually start the really hard work in residency."
Dr. Garrett looks forward to beginning his family medicine residency at Baptist Outreach Services in Montgomery, AL. In addition to treating community members, he hopes to use his background in information technology to assist with the efficiency of electronic health records systems.
"I knew people who had gone to SGU and had been successful, and I knew it was a good path," Dr. Garrett said. "I'm convinced that SGU is the only path that I could have taken to be where I am today. I would do it all over again."
Natasha Singh, MD SGU '16, of California is "ecstatic" to be returning home for residency, having accepted an internal medicine position at the University of California, San Francisco's Fresno location, her top-choice program.
"I'm proud of everyone here – we all made it, we're all happy, we all graduated," she said. "For me, I don't regret going to SGU. I worked really hard, and I'm glad that my efforts paid off. I'm going to a program that I'm more than happy with."
She was joined at commencement by Rashad Ramkissoon, MD SGU '16, who came to Grenada from Texas and will continue on as a family medicine resident at Virginia Tech Carilion School of Medicine in Roanoke, VA. SGU has matched more students to US residencies than any other medical school for the last six years combined, including more than 850 placements in 2016.
"Graduating is a big accomplishment, but it's just a foundation of where you really want to be in the future," Dr. Ramkissoon said. "SGU helped us get there. It was a blessing, an opportunity, and it really helped me grow as a person and as a physician."
He, like all graduating class members, attended lectures held by Dr. Mary Jeanne Kreek, Senior Attending Physician and Professor of Addictive Diseases at The Rockefeller University. Dr. Kreek was bestowed an honorary Doctor of Science for her roles as visiting professor for more than 35 years and longtime member of the Windward Islands Research and Education Foundation (WINDREF) Board of Directors.
https://www.sgu.edu/wp-content/uploads/2016/06/SOM-Commencement2.jpg
298
550
dbriggs
https://www.sgu.edu/wp-content/uploads/2020/02/sgu-logo-grenada.svg
dbriggs
2016-06-14 12:22:28
2017-01-17 22:55:14
Physician Class of 2016 Sets Sights on Next Step