Seventeen St. George's University Students Obtain Postgraduate Residency Slots in Canada
St. George's University's bond with Canadian students and graduates is as strong as ever. Through the Canadian Resident Matching Service (CaRMS), 17 St. George's University students matched with first-year residency positions in Canada and will begin their postgraduate training this summer.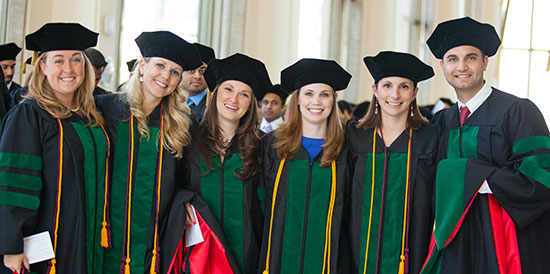 St. George's University students will complete their postgraduate training in the fields of orthopedic surgery, internal medicine, family medicine, pediatrics, and psychiatry at such programs as McMaster University, Queen's University, the University of British Columbia, the University of Calgary, the University of Ottawa, the University of Saskatchewan, the University of Toronto, and Western University. A second match iteration will take place on April 15.
"We congratulate those who will continue their medical careers in Canada and wish them the best of luck," St. George's University Chancellor Charles R. Modica said. "We are confident that these institutions will be impressed with the knowledge and character of the SGU students who will enter into residency this summer."
Among those matching was Matthew Rubacha, who will begin his residency in orthopedic surgery at the University of Toronto on July 1. Originally from Toronto, Mr. Rubacha enrolled at SGU because of its track record for producing successful physicians. After two years in Grenada, he completed his clinical rotations, including many in orthopedic surgery, and complemented the experience by volunteering as a medical student observer in U of T's orthopedic program.
"I can't wait to begin the next step of my training," Mr. Rubacha said. "Like every other medical student, I'm a bit nervous to be put in a position of greater responsibility and expectations. However, I've worked incredibly hard and believe that I am as well prepared as any other medical student from any other medical school."
Noreen Choe matched with the pediatrics program at McMaster University in Hamilton, Ontario. Her affinity for pediatrics began when she volunteered at a summer camp for autism, ADHD, Down syndrome, and cerebral palsy, and carried that passion through her volunteer work, her research in graduate school, and her clinical rotations in New Jersey. Between studies at SGU, she served as president of the Canadian Students Association (CanSA).
"I am absolutely elated to have matched at McMaster University," she said. "While the workload at SGU was very heavy, it was nice to be surrounded by students who have the same goals, so it was very motivating to study. Also, I was happy to see many guest lecturers come down from Canada, and it made me want to join that camaraderie one day in the future."
Since St. George's University opened its doors in 1977, more than 900 Canadians have graduated from the School of Medicine, and over 640 Canadian students are currently enrolled at the University. SGU's Canadian medical students have excelled on their step exams, with a 100 percent pass rate for those who sat the Medical Council of Canada Evaluating Examination(MCCEE) from 2008 to 2012, and a 99 percent pass rate on the United States Medical Licensing Examination for first-time test takers in 2013.
SGU's Keith B. Taylor Global Scholars Program was part of a strong pipeline back to Canada. Of the 17 students who matched through CaRMS, seven spent the first year of their medical education at Northumbria University before spending a year in Grenada and two more in clinical rotations.
https://www.sgu.edu/wp-content/uploads/2020/02/sgu-logo-grenada.svg
0
0
jrichardsink
https://www.sgu.edu/wp-content/uploads/2020/02/sgu-logo-grenada.svg
jrichardsink
2014-01-20 19:29:29
2017-01-18 00:04:21
Postgraduate Training Slots in Canada