Dr. Leon H. Russell, President of the World Veterinary Association, welcomed a new class of veterinary students to St. George's University during his Keynote Address at the White Coat Ceremony held on August 22, 2006.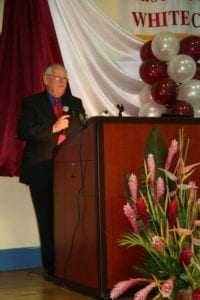 78 new veterinary medical students (22 men and 56 women) from seven different countries were welcomed to St. George's at the 14th White Coat Ceremony of the School of Veterinary Medicine. To an audience filled with family, friends and faculty members, the new students pledged their commitment to the field of veterinary medicine.
Dr. Russell welcomed the students to veterinary medicine and urged them to try their hardest. "The next three years will require your dedication, perseverance and hard work to build on the educational foundation you already have," he said. "You will have a great adventure within this profession, but it will continue to take great effort from you to succeed."
Dr. Russell also talked about the significance of the white coat and the white coat ceremony, saying that it represents professionalism – an obligation that is inherent in the practice of medicine. He provided a descriptive analogy of what the white coats symbolizes. The three pockets of the coat "contain empathy, integrity, and productivity." The five buttons represent these actions: "love what you are doing; love your colleagues, respect and appreciate your fellow students and your faculty; love your family; love and care for your patients; and love to plan for your future."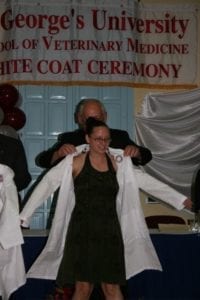 Chancellor Charles R. Modica also welcomed the students to SGU, encouraging them to succeed in their goals and strive for greatness. Dr. Raymond Sis, Dean of the School of Veterinary Medicine, addressed the veterinary medical students, and welcomed them to Grenada and to their new noble profession. "You must honor the sacred trust and privilege that society places in medical professionals, cognizant that the standard is an ideal we must continuously aim to achieve," he added.
Dr. Russell serves as a professor at Texas A&M, teaching epidemiology, biostatistics, toxicology, veterinary anatomy, public health, food science, medical microbiology and immunology. He held leadership roles in the Texas Veterinary Medical Association and the American Veterinary Medical Association (AVMA). Chosen by the AVMA Board to represent the U.S. at the World Veterinary Association (WVA), Dr. Russell was elected Vice President in 2002. In 2005, he was elected President of the WVA at the 28th World Veterinary Congress.
Dr. Russell earned his DVM at the University of Missouri College of Veterinary Medicine. He received his MPH from Tulane University and his PhD from Texas A&M University. With his professional interests in epidemiology, food toxicology and mycology, Dr. Russell entered academia as a teacher and researcher. He has represented his professional on state, national and international levels throughout his career.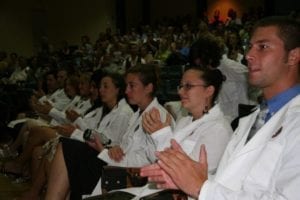 Published on 09/07/2006
https://www.sgu.edu/wp-content/uploads/2016/10/Woman-Receiving-White-Coat-at-SVM.jpg
639
426
smashm3233
https://www.sgu.edu/wp-content/uploads/2020/02/sgu-logo-grenada.svg
smashm3233
2006-09-07 20:30:13
2017-01-18 03:05:33
President of World Veterinary Association welcomes new Vet Students at White Coat Ceremony