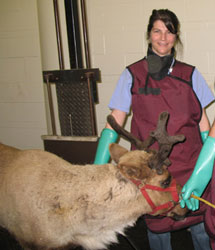 Rivkah Bradsky graduated last week from the SVM, having recently been recognized by the American Veterinary Medical Association (AVMA) and the American Association of Avian Pathologists (AAAP).
Rivkah was one of 10 students awarded the AVMA Externship Stipend Program for her commitment to public health veterinary medicine.  Rivkah's experience has clearly proven her dedication to the field.  She has interned at several research facilities including some work in Grenada with Dr. Ravindra Sharma on toxoplasmosis, an infection caused by the single-celled parasite toxoplasma gondii.  Also, at the time of application, Rivkah had already received a highly sought after appointment as an extern with the US Department of Agriculture's Animal and Plant Health Inspection Service (USDA-APHIS).  The strong support of SGU's Dr. Buxton Nyack and Dr. Nicoletti, along with Dr. Linda Detweiler of the USDA program, were crucial to her successful application.  Rivkah completed her experience in NY at the Animal Import Center for animals entering or transiting through the US.  In this capacity, she worked directly in quarantine and control of infectious diseases from abroad.
The AVMA Stipend Program, which began in 2004 with five stipends at $1,000 each, has recently approved a significant increase in funding due to the success of the program.
This year there were 39 applicants, 10 of whom were selected to receive stipends for completing externships in Public Practice and Corporate Veterinary Medicine (examples of these externships locations would be, but are not limited to, Department of Agriculture's Animal and Plant Health Inspection Service, Johns Hopkins University, the Centers for Disease Control and Prevention, the US Department of Agriculture, research labs, wildlife and pharmaceutical companies).
In response to the shortage of food supply veterinarians, the AVMA recently expanded the program to include five additional $1,000 stipends specifically for students participating in externships in food supply veterinary practice. The AVMA now funds the externship stipend program for 15 students, at a total of $15,000.
In addition, Rivkah is one of only two recipients selected each year for the AAAP Foundation Kenneth Eskelund Preceptorship Grant.   Rivkah was selected for her interest in poultry medicine, most specifically in areas of infectious disease and biosecurity.  At the time of application, she had completed an externship with Tyson Foods, Inc. where she was directly involved in biosecurity analysis, control and prevention of infectious disease in turkey and chicken operations within the tri-state area of Missouri, Arkansas and Oklahoma, and the development of proactive strategies with area poultry veterinarians in infectious disease prevention, above and beyond government regulations.  Rivkah's experience in poultry medicine as it relates to infectious disease was inspired and supported by SGU's Dr. Sharma.  The externship was arranged through the help of Dr. Daniel Shaw and Dr. Alex Bermudez of the University of Missouri, where she spent her clinical year.
The AAAP Foundation, Inc. is a nonprofit corporation engaged in charitable, scientific and educational activities. The Foundation annually awards preceptorships up to $1,200 to veterinary students for the purpose of helping them defray housing, living and travel expenses incurred while attending poultry medicine training programs under the auspices of their veterinary medical schools.
Dr. Eskelund, who has had a successful career in the poultry industry and has been an ardent supporter of the AAAP, provided the capital funds to establish this program in 1988. His intention was to encourage veterinary students to consider careers in poultry medicine.
The American Association of Avian Pathologists has solicited the cooperation of its members in establishing a variety of training sites including universities, diagnostic laboratories, poultry production companies and poultry breeding companies.
Rivkah is proud of the education and experience she gained at SGU, both in the classroom and in the workplace.  She plans to pursue a career in public health veterinary medicine, with an emphasis on infectious diseases.  Her ultimate goal is to work with the US government in handling disease outbreak.  She is currently considering advanced degree programs in infectious disease and comparative medicine.

Published 6/20/2007
https://www.sgu.edu/wp-content/uploads/2016/10/Rivkah-Bradsky-with-Reindeer.jpg
250
215
smashm3233
https://www.sgu.edu/wp-content/uploads/2020/02/sgu-logo-grenada.svg
smashm3233
2007-06-20 19:01:34
2017-01-18 02:50:53
Public Health Study Boost to '07 School of Veterinary Medicine Graduate