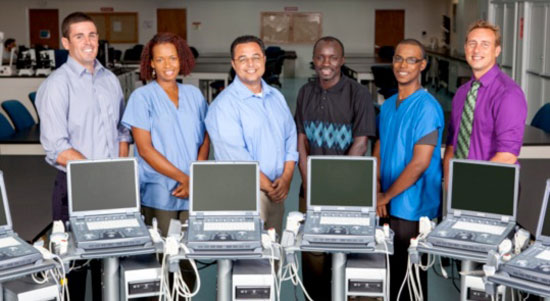 From left to right, Drs. Andrew Walter, Alana John, Marios Loukas, Stephen Osiro, Denzil Etiene, and Mitchell Muhleman 
In March of 2011, St. George's University School of Medicine created five research fellowship positions in the basic sciences for graduates who did not match in 2011. These unique one-year research fellowships allowed five graduates to strengthen their applications for post-graduate residency training in the United States, and in 2012, all five successfully matched to the residency programs to which they applied, such as family medicine, internal medicine and surgery.
"The combination of hard work, team effort, and dedication was the key in each fellow matching to their desired residency program," said Dr. Marios Loukas, Assistant Dean of Basic and Allied Health Sciences. "I could not have asked for a better group of MDs to start this fellowship program. For the future fellows, I am confident that this program will help them achieve their future goals. Additionally, I feel that the success of this program was based on the strong foundation that St. George's University provides to students."
The fellows were provided the opportunity to focus on research, as well as taught in the basic sciences courses. They facilitated teaching in anatomy, bioethics and pharmacology small groups, and conducted ultrasound sessions in dry lab and simulation lab classes. These tasks allowed the fellows to improve on their skills as leaders, educators and further their knowledge of the various aspects of research. Each research fellow was assigned a group of approximately 25 students from the Basic Sciences as part of the Medical Student Research Institute (MSRI) to mentor and work with. Fellows were given projects to distribute to students on various topics on basic and clinical science research such as national cancer database SEER, meta-analysis review, ultrasound, surgical anatomy and technique and history of medicine papers.
Additionally, by presenting their research at national meetings and by publishing papers, graduates in this program improved their residency candidacy. Each fellow was able to author manuscripts as a first or second author for peer-reviewed medical journals. This aspect of the fellowship allowed the fellows to not only strengthen their CVs with publications but also to acquire the skills to conduct research, which is a required component of the vast majority of residencies.
According to Dr. Denzil Etienne, one of the five fellows who matched as a result of the program, "This opportunity, in conjunction with great camaraderie among the fellows, has indeed been a great experience and will serve as a nice platform for my future academic or clinical goals."
https://www.sgu.edu/wp-content/uploads/2016/10/news-research-fellowship.jpg
301
550
jrichardsink
https://www.sgu.edu/wp-content/uploads/2020/02/sgu-logo-grenada.svg
jrichardsink
2012-05-21 19:16:49
2017-01-18 00:55:23
Research Fellowship Program Provides Pipeline to Residency for Five Grads