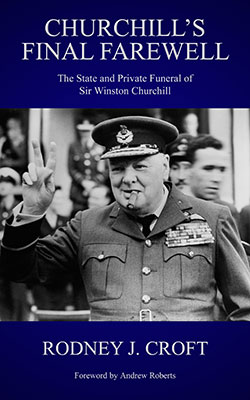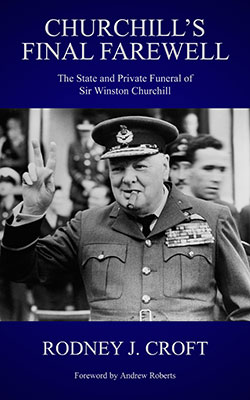 On January 30, 1965, the world mourned as Sir Winston Churchill, the former Prime Minister of England who led Allied Forces to victory over Axis powers in World War II, was laid to rest. His State Funeral was then considered the largest in world history, with representatives from 112 countries on hand and more than 350 million people worldwide watching on television.
Among them was Mr. Rodney Croft, then a medical student reading Basic Sciences at Cambridge University. Now fifty years later as St. George's University's Dean of Clinical Studies for the United Kingdom and author of the newly released book Churchill's Final Farewell: The State and Private Funeral of Sir Winston Churchill, Rodney Croft will play a significant role in part of the ceremony's re-enactment on January 30. In view of his book and the fact he is a Liveryman and a Freeman of The City of London, Mr. Croft was selected by the Corporation of London to clear traffic on Tower Bridge and then pull the lever in the bridge's control room to lift the two 1,100-ton bascules that will allow MV Havengore, the very vessel that carried Churchill's body up the Thames River in 1965, to once again pass upstream with the great salute Tower Bridge and The Port of London can bestow.
"I feel an enormous sense of honor, pride and excitement," Mr. Croft said. "I will never forget it for the rest of my life."
Churchill suffered a major stroke on January 15, 1965, and died nine days later at his home in London, 70 years to the day after his father's death which Churchill had earlier prophesied. Churchill's final journey on water came on the Thames January 30, as MV Havengore carried him from Tower Pier to Festival Pier and then by motor hearse to Waterloo Station and then by train to his resting place in the family plot at St. Martin's Church in Bladon, Oxfordshire, in view of Blenheim Palace where he was born 90 years before.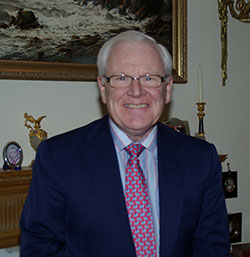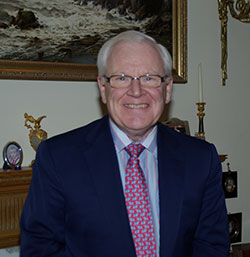 "Without him, the world would be a completely different place," Mr. Croft said. "At his funeral, half a million people lined the route from Westminster Hall to St. Paul's Cathedral, and there were hundreds of thousands along the Thames, standing in total silence in respect for this incredible man who had saved western democracy from Nazi tyranny. There were wonderful tributes transmitted on television from Sir Robert Menzies as he was carried from St. Paul's to Tower Pier and then by Dwight Eisenhower as his coffin was born upstream on The Thames."
Since he was a boy, Mr. Croft has felt "an incredible bond" with Churchill, who, like he, was born six weeks premature. That connection only grew as he learned more and more about the former Prime Minister and his role as Britain's wartime leader in the first half of the 20th century. Mr. Croft had penned many medical and surgical articles throughout his nearly 50 years in medicine, but on this occasion turned his hand at history with Churchill's Final Farewell.
In addition to countless hours of research at places such as Arundel Castle Archives, Churchill College Archives Cambridge, the National Archives, and the College of Arms in London, Mr. Croft conducted many interviews for the book, which was published in October 2014. Among them was Churchill's living heir, great grandson Randolph, and his mother, Minnie Churchill; the 11th Duke of Marlborough, who per Mr. Croft regarded the funeral as "the most momentous occasion he had ever witnessed in his life or ever shall"; the Countess of Avon, Churchill's niece and wife of Sir Anthony Eden, who succeeded Churchill as Prime Minister in 1955; Peter Morehen, then the Police Sergeant at Scotland Yard who typed the Police plans for the State Funeral; and Angela Nichols, one of Churchill's nurses.
The current Dean has been associated with SGU for more than three decades; first as a Consultant Surgeon in 1980 at North Middlesex University Hospital. He went on to serve as the hospital's St. George's University School of Medicine Clerkship Director for Surgery and then as Director of Medical Education. He was then appointed Professor and UK Chair of Surgery at St. George's and then Dean of Clinical Studies UK in 2003.
With Churchill's Final Farewell, he adds the title of historical author to the list. When he was notified of the role he will play at the re-enactment of Churchill's Thames river journey last month, he remarked,
"A shiver went down my spine. I was just bowled over and completely overwhelmed. I expect that it will be quite a moving experience."
https://www.sgu.edu/wp-content/uploads/2016/10/Churchills-Final-Farewell-cover.jpg
400
250
VS
https://www.sgu.edu/wp-content/uploads/2020/02/sgu-logo-grenada.svg
VS
2015-01-28 13:27:23
2017-01-17 23:37:30
Rodney Croft Will Raise Tower Bridge as City of London Re-Enacts "Momentous" Churchill State Funeral