Aspiring nurses were recently inducted into St. George's University School of Arts and Sciences Nursing Program, and marking their entry into the profession were presented with lamps as a symbol of the care and devotion administered by nurses around the world.

"You are about to enter a profession that is held in high regard across the globe. Take all of the opportunities that are open to you. It may seem a long journey but embrace it. You've done a lot of work to even sit here at the start of this journey," praised Master of Ceremonies, Mrs. Jennifer Solomon, RN and Chair and Director, Nursing and Allied Health, SGU."
In addition to being welcomed into the School of Arts and Sciences by Acting Dean, Dr. John Swartz, the incoming class was also greeted by recently appointed Provost of SGU, Dr. Joseph Childers. "I want to congratulate all of you on your personal and professional choice," commended Dr. Childers.  "As nurses, you will be the first line of care for patients. You will be that connection between the doctor and the patient. That is an extraordinary responsibility and I congratulate you on choosing this career and taking on that responsibility."
Mrs. Hazelene Benjamin, Acting Director of Nursing Services, General Hospital, Grenada and the keynote speaker, focused on the evolving roles of nurses and the challenges of a diverse, complex health care system.
"Over the years, nursing has become more complex in ways that could not have been imagined a generation ago. Now there is an imperative to not just be great caregivers, but great innovators too. Nursing is now a profession for the intellectually curious, the life-long learner, the caring enthusiast, and the innovative advocate," stated Mrs. Benjamin.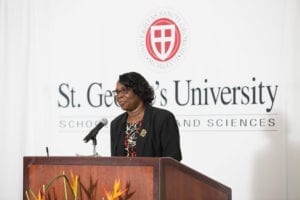 "Today nurses are not only empowered to face the associated health care challenges, but are better prepared and able to play a significant role in the transformation of health care systems nationally, regionally, and internationally."
"As future nurses, today marks the beginning of your journey into the beautiful, exciting and rewarding career of service filled with wonderful opportunities and possibilities. The sky is the limit," promised Mrs. Benjamin. "Your attitude will determine your altitude of success. Go light your candle of service, go light your world,  and be an outstanding trailblazer."
About St. George's University Nursing Program
Uniquely structured, the Nursing Program at St. George's provides an opportunity for students to be taught by professors from both the School of Medicine and the School of Arts and Sciences, as well as visiting professors from outside of Grenada. In addition, student nurse training experiences will include working at the Grenada General Hospital, lab work at SGU's Simulation Center, and community-based learning opportunities. At the end of training, and with the completion of regional and international licensing exams, successful students will become fully fledged Registered Nurses as approved by the Caribbean Nursing Council.
https://www.sgu.edu/wp-content/uploads/2017/04/20170126_0101-1-e1491858476401.jpg
563
845
rpetersgmail
https://www.sgu.edu/wp-content/uploads/2020/02/sgu-logo-grenada.svg
rpetersgmail
2017-02-06 21:09:25
2017-04-10 21:11:37
School of Arts and Sciences Welcomes New Class of Nursing Students at Spring 2017 Nursing Induction Ceremony