The St. George's University School of Medicine's Class of 2020 took another step toward their future profession by taking part in the school's 40th White Coat Ceremony on August 26. The students donned their newly minted white coats, emblems of the authority and professionalism of their chosen field, and collectively recited the Oath of Professional Commitment.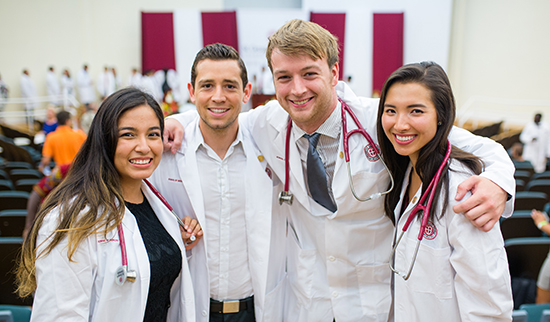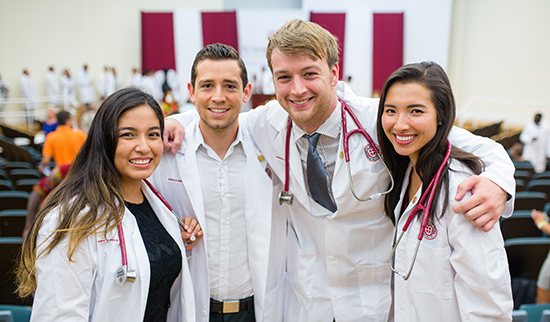 University President and Chief Executive Officer Dr. G. Richard Olds delivered a touching keynote address, during which he shared anecdotes and lessons from his medical career. In one instance, he learned that a physician must always act in the patient's best interest, no matter the perception. "When all is said and done, no matter how unpopular, no matter how you might appear, you have to do what is best for your patient," said Dr. Olds.
For lesson two, he stressed to the students that being a doctor means more than diagnosing illness and recommending treatments. It sometimes means being a friend to your patient who really needs one.
His final lesson was about not letting emotional attachment obstruct recognizing what the patient truly wants. Dr. Olds spoke of a time when he battled to prolong his father's life in the face of an increasingly complicated medical history. The father, however, wished to be allowed to pass quietly, surrounded by his loved ones.
"There is a tendency to try to do what you think the patient wants, or what you would do in the circumstance, and to forget that you have to listen to the patient and try to do what the patient wants with life," he said. "The faculty will teach you what you need to know about how the body works, how it goes wrong in disease, how to make a diagnosis, and what is the best way to treat conditions, but it is your patients who will teach you the art of medicine. You have to be open to it, you have to listen to it, and you have to learn from the hard lessons, from the mistakes that you will make in the management of your patients. If you do that, you will all become great physicians."
The festivities was emceed by Glenn Nanney, MD SGU '14, a third-year physical medicine and rehabilitation resident at East Carolina University in Greenville, NC. The White Coat Ceremony was first established at Columbia University's College of Physicians and Surgeons in 1993 and has since been adopted by most medical schools. This important ritual, which symbolizes a student's induction into the medical profession, was embraced by St. George's University's School of Medicine in 1996.
By Davette St. Louis
Published on 9/1/16
https://www.sgu.edu/wp-content/uploads/2016/10/SOM-white-coat-cereomy-August-2016.jpg
322
550
Erin Shaw
https://www.sgu.edu/wp-content/uploads/2020/02/sgu-logo-grenada.svg
Erin Shaw
2016-09-01 17:41:07
2017-01-17 22:49:48
School of Medicine Class of 2020 Takes Oath at Fall 2016 White Coat Ceremony