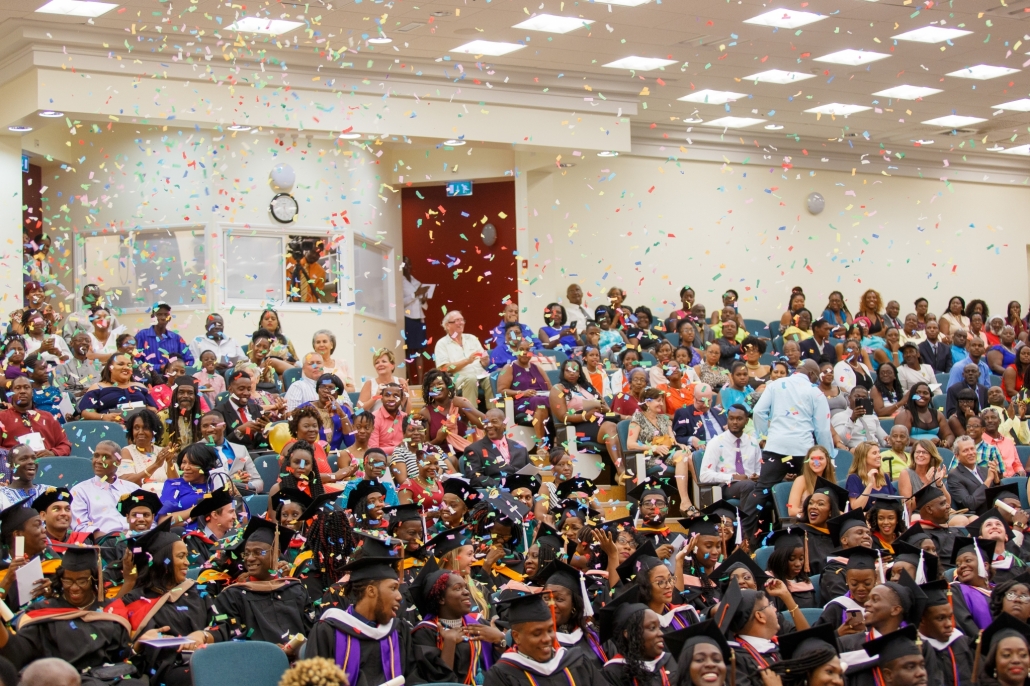 Seventeen years after establishing a successful School of Medicine, St. George's University further evolved as an international center for excellence with the launch of the School of Graduate Studies (SGS). Spearheaded by SGU's second Vice Chancellor, Dr. Keith B. Taylor, it was his vision for international expansion which led not only to forming SGS but to creating the Office of Research, the Panel on Research and Scholarly Activity and most noteworthy the founding of the Windward Islands Research and Education Foundation (WINDREF)in 1994.
This year, the school celebrated 25 years of excellence, having graduated more than 1,300 students.
"Dr. Taylor recognized that if a tertiary education institution wanted to enhance its excellence in medical education, this could be done through expanding its academic offerings," said Dr. Calum Macpherson, dean of the School of Graduate Studies and director of research at SGU. "Today, SGS aims to achieve and sustain excellence in every area of its graduate programs, evolving its reputation as a world-class school, and enriching international, national, and regional communities through the outcomes of its programs and the skills of its graduates."
At present, the SGS has 34 different graduate degree programs, including a Doctor of Philosophy, Master of Business Administration, Master of Arts, and Master of Education programs. In addition, students can earn dual degrees such as the DVM/MSc, DVM/MBA, MD/MSc, and MD/MPH, which has more than 1,000 graduates and is currently celebrating its 20th anniversary.
Established in 1999, SGU's Master of Public Health program has been fully accredited by the Council on Education for Public Health (CEPH) since July 2010, having recently earned CEPH re-accreditation of the MPH program through 2022. According to Dr. Christine Richards, chair of public health and preventive medicine, that makes it the only accredited program in the region and only one of five such programs accredited by the CEPH outside of the United States.
With approximately 25 percent of graduates hailing from Grenada, the School of Graduate Studies has had a significant impact on Grenada and research in the Caribbean as a whole—especially on the quality of jobs and the level of Grenadians entering senior posts in the country and within the region. Many SGU grads have gone on to hold high-profile positions in the Organization of Eastern Caribbean States (OECS), occupy top placements in Grenadian financial and health institutions, and assume the role of Grenada's Chief Medical Officer, including Drs. Carlene Radix and George Mitchell.
"Today, SGS aims to achieve and sustain excellence in every area of its graduate programs, evolving its reputation as a world-class school, and enriching international, national, and regional communities through the outcomes of its programs and the skills of its graduates."
In terms of research, substantial work has been completed in collaboration with the Ministries of Health, Education, and Agriculture through WINDREF, also commemorating its 25th year. The foundation is a non-profit charitable trust which attracts considerable contributions of grants and donations from international organizations and private donors. WINDREF has hosted several dinners at the House of Lords in the UK with notable speakers, such as Lord Sebastian Coe, chairman of the London Olympic Games Organizing Committee. It has also held a number of fundraisers, including one in 2000 at the United Nations in New York, which raised US $400,000, of which $200,000 was donated to renovating Grenada's General Hospital.
"WINDREF brings in approximately US $1.2 million a year in research funds," said Dr. Trevor Noël, deputy director, WINDREF. "It is also one of the largest employers of our MPH graduates, providing not only employment but exciting research opportunities for Grenadians so they don't have to move abroad to become research scientists. They now have the opportunity to work on well-funded research projects right here in Grenada."
The foundation's largest research projects have included partnerships with SGU's Department of Public Health and Preventive Medicine (DPHPM) and the Ministry of Health covering both noncommunicable and infectious disease research through the lens of their public health and epidemiological importance in a small island developing state. Appropriate, applied research has been the foundation's focus with practical solutions such as instituting the Touch Toe Test—a simple examination to help diabetes sufferers detect loss of sensitivity in their feet. Along with a PSA, the program potentially reached thousands of Grenadians in hopes of resulting in a reduction of diabetic foot amputations.
Similarly, with the introduction of the Chikungunya virus (CHIKV) epidemic in 2014, WINDREF also collaborated with Drs. Clare Heath and Desiree LaBeaud of Stanford University to study the epidemiology and long-term effects on those infected with the virus. At present, the foundation has partnered with renowned Dengue expert, Dr. Timothy Endy from SUNY Upstate Medical University on an incidence study of infection within the SGU student population, as well as the immunology of the primary infection and the feasibility to support dengue vaccine development.
With much of the School of Graduate Studies' research conducted on its True Blue Campus, SGU also houses the first WHO Collaborating Centre on Environmental and Occupational Health in the Caribbean, the Global Water Partnership (GWP)'s Caribbean network, and one of six regional collaborating centers of the UN Framework Convention on Climate Change in the world.
"One of the largest research focuses in the future will be the effects of climate change," added Dr. Macpherson. "In addition to the environment, it's going to have an impact on both human and animal health. We hope to be at the cutting edge of research into this global problem. Our capacity to develop research protocols and partnerships will certainly be of importance regionally but will also have relevance globally."
– Ray-Donna Peters
https://www.sgu.edu/wp-content/uploads/2019/12/20180512_0220-1.jpg
500
845
rpetersgmail
https://www.sgu.edu/wp-content/uploads/2020/02/sgu-logo-grenada.svg
rpetersgmail
2019-12-13 19:00:13
2019-12-13 19:48:51
School of Graduate Studies Celebrates 25 Years of Excellence