Professor Alan Fenwick Honored with Prestigious Mike Fisher Award at Annual WINDREF Dinner
The fourth Windward Islands Research and Education Foundation (WINDREF) dinner, held at the House of Lords in the British parliament. Hosted by Baroness Howells of St. David's, WINDREF President, the dinner highlighted the role of sport, diet, and exercise in preventing diabetes and obesity and raised funds for the Sport for Health campaign in Grenada.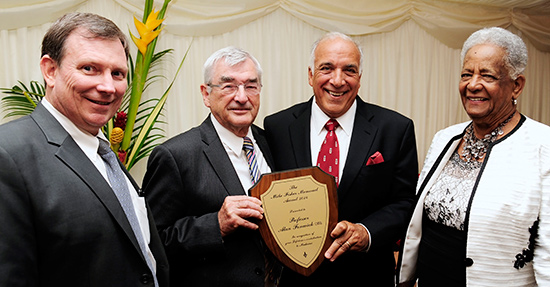 WINDREF Director Calum Macpherson, award recipient Professor Alan Fenwick, St George's University Chancellor Charles R. Modica, and WINDREF President Baroness Howells of St. David's
WINDREF launched its Sport for Health program at the House of Lords in 2010 as a way to address the recent and dramatic increase of obesity in Grenada. The program has partnered with St. George's University and several organizations in Grenada, including all 22 secondary schools in Grenada, Carriacou, and Petite Martinique, to promote physical activity and a healthy diet for people of all ages, as well as teach ways to prevent and manage chronic disease such as diabetes and heart disease.
At the dinner, WINDREF awarded the annual Mike Fisher Memorial Award, its most prestigious honor, to Professor Alan Fenwick, Professor of Tropical Parasitology at Imperial College, London. Professor Fenwick was honored "for his outstanding work in the research and control of schistosomiasis, which has benefited over 100 million people in underprivileged countries – particularly children," according to Dr. Calum Macpherson, WINDREF's director, in announcing the award.
The award is named for Dr. Mike Fisher, who discovered the drug ivermectin – sparing 35 million people in developing countries from blindness and disfigurement and providing domestic animals and livestock with healthier lifestyles. Dr. Fisher died in Grenada in 2005, and WINDREF has acknowledged important researchers with the Mike Fisher Award every year since.
The evening's speakers included Dr. Macpherson, who spoke on WINDREF's role in addressing obesogenic issues in Grenada, Dr. Gareth Williams, Emeritus Professor of Medicine and Senior Research Fellow at the University of Bristol, and Dr. Harry Rutter, Senior Clinical Research Fellow at London School of Hygiene and Tropical Medicine. The dinner was also attended by Alexandra Otway-Noël MP, Grenada's Minister of Tourism and Civil Aviation; Lance Corporal Johnson Beharry VC; Garth Crooks, Patron of Sport for Health; Grenada's High Commissioner to the UK, His Excellency Joslyn Whiteman; and diplomatic representatives from Barbados, Trinidad and Tobago, and the Dominican Republic.
https://www.sgu.edu/wp-content/uploads/2020/02/sgu-logo-grenada.svg
0
0
jrichardsink
https://www.sgu.edu/wp-content/uploads/2020/02/sgu-logo-grenada.svg
jrichardsink
2014-05-28 19:31:27
2017-01-17 23:54:39
WINDREF Holds 4th Annual Dinner at House of Lords