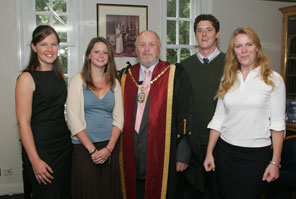 Six graduates from St. George's University School of Veterinary Medicine have passed the Statutory Membership Examination of the UK's Royal College of Veterinary Surgeons (RCVS). 44 veterinary graduates in all took the RCVS this time; SGU's successful examinees represent fully one half of the total number that passed.
SGU graduates Fiona Dobbie, Emily Jubert, Claire Lambourn, Jonathan McCotter, Jenni Mason and Peter James Burnett were among 12 candidates worldwide.  In the presence of their friends and families, RCVS President Dr. Bob Moore presented the accomplished graduates with certificates at a Ceremony of Admissions at the RCVS in London.
In order to practice veterinary surgery in the UK, all graduates with foreign or Commonwealth qualifications must pass this exam which consists of two days' written papers in London, followed by clinical, oral and practical exams at a UK veterinary medical school. As a statutory regulator, the RCVS undertakes the responsibilities to maintain a register of veterinary surgeons eligible to practice in the UK; to regulate veterinary medical education and to regulate professional conduct.
Many of the graduates have set the wheels in motion for a career in the UK.  Jonathan McCotter, Claire Lambourn and Fiona Dobbie are eager to begin their careers in mixed animal practice.  Each of these graduates has been inspired in their youth by family members who similarly chose veterinary medicine as a profession.
According to Fiona Dobbie, "Veterinary medicine is not a career, but a way of life."  Fiona was influenced by her veterinarian grandfather, and as a very young girl, dreamed of working with animals.  Fiona has accepted a position in a small country practice in Northern England, where she and her colleagues will cover approximately 100 square miles of farm land.  Dr. Dobbie reflects upon her experience in Grenada with admiration for the University's faculty and administration.  She believes the intimate class size at SGUSVM combined with the hands-on surgical experience and wet-labs significantly contributed to her confidence with patients.  She believes SGU students have a tremendous advantage in the practical stages of veterinary medicine, over programs in the UK.  Dr. Dobbie hopes to return to Grenada at some point in her career and practice the skills she acquired at SGU.
Dr. Jonathan McCotter, whose father is a veterinarian, will be joining his family's five-person mixed animal practice in Cornwall.   When asked about his experience at SGU, Dr. McCotter stressed that the standard of teaching at the University, with faculty from Grenada, UK and the US, is exceptional.  "While the semester's academic pace was intense," said McCotter, "the program was well laid out, offering invaluable hands-on experience."
Dr. McCotter also praises his fellow students, explaining that while the academic environment is extremely challenging, the genuine camaraderie and mutual respect amongst the students was invaluable.  Fiona Dobbie is in agreement, emphasizing that her class of 40 students "bent over backwards" to help each other succeed.
For Claire Lambourn, her choice to practice veterinarian medicine skipped a generation.  Claire recalls wanting to be a veterinarian, like her maternal grandparents, from a very young age.  She was inspired by her grandmothers pioneering career path as the first female veterinary surgeon in Malaysia, where she traveled with her husband the late Major Witherington OBE.
While Claire is impressed by the caliber of the SGU professors, it was the life experience and lessons she gained from Grenada that left the most significant mark.  She arrived at the SGU campus a young 18 year old student and left more mature, confident and focused than ever thought possible.  Claire credits the University and its staff for their continuous guidance and encouragement.
Jenni Mason, who was in New York and unable to attend the ceremony, holds the distinction of being the first graduate from the joint program between SGU and the University of Nottingham.  Peter James Burnett is presently teaching at SGU in Grenada.
SGU has 25 British students enrolled in veterinary medicine, and looks forward to an increasing number of them practicing in the UK upon graduation.
Published on 8/20/07
https://www.sgu.edu/wp-content/uploads/2016/10/SVM-GRaduates-that-Passed-the-RCVS.jpg
199
296
smashm3233
https://www.sgu.edu/wp-content/uploads/2020/02/sgu-logo-grenada.svg
smashm3233
2007-08-20 19:39:11
2017-01-18 02:48:26
School of Veterinary Medicine Grads Achieve Royal College of Veterinary Surgeons (RCVS) Membership