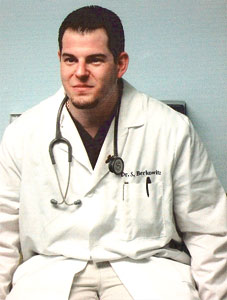 Dr. Steven Berkowitz, recent SGUSVM alumni, will be featured on seasons 5 and 6 of Animal Precinct on Animal Planet.   Steve, a native of New Jersey, is currently an intern in Small Animal Medicine and Surgery at Bergh Memorial Animal Hospital of the ASPCA (American Society for the Prevention of Cruelty to Animals) in New York City, where the episodes are filmed.  He will appear on several episodes of Animal Precinct during the next year. The first episode aired on Thursday, June 14th.
Animal Precinct is a powerful reality show that follows the animal cruelty agents from the Humane Law Enforcement department (HLE) of the ASPCA as they advocate for animals, sometimes removing them from dangerous situations and pursuing arrests of those cruel to animals. There are currently only 20 agents with full police powers for the entire city and state.
The episodes track the progress of the animals, specifically dogs and cats, from initial care at the hospital to their ultimate adoption.  According to Dr. Berkowitz, "Appearing in the episodes was a rewarding and unbelievably unique experience."  He continued, "Since the ASPCA is not-for-profit, there are no monetary limitations to getting these animals back to health."  He is continually amazed by the recovery many of these animals make, often after severely damaging injuries and abuse.  He believes Animal Precinct helps increase awareness of the scope of animal abuse.
Animal Precinct was the first show created by Animal Planet as part of an "umbrella rotation" of shows known collectively as "Animal Planet Heroes", and its success led to the development of similar shows set in Detroit, Michigan (Animal Cops Detroit), Houston, Texas (Animal Cops Houston), Miami, Florida (Miami Animal Police), San Francisco, California (Animal Cops San Francisco), and Phoenix, Arizona (Animal Planet Heroes: Phoenix).  The show appears on Discovery Channel networks worldwide.
Dr. Berkowitz plans to stay close to home after completing his internship.  He is currently investigating opportunities in emergency medicine in hospitals in the tri-state area.
We will keep you updated on air dates of future episodes which feature SGU's televised veterinarian.

Published 6/20/2007
https://www.sgu.edu/wp-content/uploads/2016/10/Dr-Steven-Berkowitz.jpg
300
227
smashm3233
https://www.sgu.edu/wp-content/uploads/2020/02/sgu-logo-grenada.svg
smashm3233
2007-06-20 19:04:20
2017-01-18 02:49:56
School of Veterinary Medicine Graduate Featured on Animal Planet