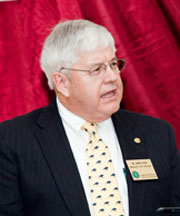 On Tuesday, January 19th, 2010, St. George's University's School of Veterinary Medicine (SGUSVM) formally welcomed 51 new SVM students from the US, Canada, Barbados, Scotland, and Botswana to the True Blue campus. The class of 2014 was welcomed by Dr. Adria Rodriguez, Master of Ceremonies and recent SVM graduate; Dr. Raymond Sis, SVM Dean; and Dr. Charles R. Modica, Chancellor. Dr. Modica, in his address, commented that the School had come a long way since its inception just over 10 years ago and had proven itself a success. Dr. Sis encouraged the students to work as a team, mentoring and helping each other.
Dr. James Cook, immediate past president of the AVMA, served as an inspiring Keynote Speaker. He encouraged the class to never stop learning as he referenced a quote by American writer and futurist, Alvin Toffler, "The illiterate of the 21st century will not be those who cannot read and write, but those who cannot learn, unlearn, and relearn." "Imagine yourself a sponge in a sea of knowledge," said Dr. Cook, "and soak up all you can."
The Keynote Speaker encouraged the incoming class to seize every opportunity to learn, to ask many questions and to join the student arm of the AVMA, and later its professional branch, which he said would be their "lifeline and network." Dr. Cook then welcomed the students to the profession and congratulated them on their success. The fifty-one students then proudly mounted the stage where they were helped into their white coats by Dr. James Cook, Dr. Raymond Sis and Dr. Francesca Ivaldi, SGUSVM Assistant Professor, Clinical Skills and SGUSVM graduate, and thereafter took their oath of professional commitment.
Dr. James Cook has owned a mixed animal practice in his home town of Lebanon, Kentucky since 1977. He has served as chair of the Kentucky Practice Act Revision Committee and represented Kentucky in the American Veterinary Medical Association's (AVMA's) House of Delegates from 1996 to 2001. In 2001, he was elected to represent Kentucky, Michigan, Ohio and West Virginia in District V while he served on the AVMA Executive Board. In his term as Chairman, Dr. Cook launched the One Health Initiative Task Force. In addition to his membership in the AVMA, Dr. Cook is a member in the American Association of Equine Practitioners (AAEP), the American Association of Bovine Practitioners (AABP) and the American Animal Hospital Association (AAHA). Dr. Cook received the Distinguished Service Award in 2002 as Past President of the Kentucky Veterinary Medical Association and was named Kentucky Veterinarian of the Year in 1988.
Dr. Adria I. Rodriguez received her Doctor of Veterinary Medicine degree from St. George's University in January 2008. She is currently an Instructor in the Small Animal Medicine and Surgery Academic Program at St. George's University School of Veterinary Medicine, and is finishing her Master of Science degree in Marine Medicine/Microbiology.
https://www.sgu.edu/wp-content/uploads/2016/10/news-james-cook.jpg
216
180
VS
https://www.sgu.edu/wp-content/uploads/2020/02/sgu-logo-grenada.svg
VS
2010-02-01 14:34:00
2017-01-18 01:44:02
School of Veterinary Medicine Welcomes Students at 22nd White Coat Ceremony