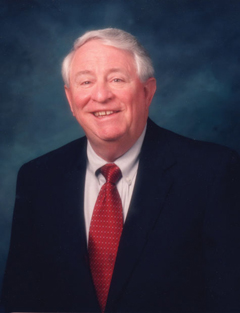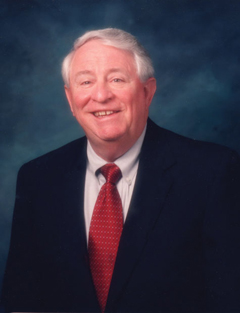 On January 22, 2008, the 18th White Coat Ceremony of the School of Veterinary Medicine was held at Bell Lecture Hall. Dr. Michele Consiglio, an SGUSVM alumnus, welcomed all attendees to the symbolic celebration. Dr. Larry R. Corry delivered the keynote address to the incoming class of 66 men and women from 13 countries around the world.
Dr. Corry served 15 years in the American Veterinary Medical Association (AVMA) House of Delegates as either a delegate or alternate delegate from Georgia.  Throughout his career as a small animal practitioner, Dr. Corry has owned five hospitals.  He currently owns two hospitals and is a shareholder in two emergency clinics.
Dr. Corry received his veterinary medical degree from the University of Georgia in 1966.  Following graduation he spent two years in the US Air Force Veterinary Corps.  He has been very active in state and local veterinary medical organizations, including the Georgia Veterinary Medical Association (GVMA) with service as District Director, Treasurer, President and Chairman of the Long Range Planning Committee.  His honors include University of Georgia Veterinary Alumnus of the Year, University of Georgia Distinguished Service Award and the Georgia Veterinary Medical Association's Veterinarian of the Year in 1992.
As he addressed the students, Dr. Corry advised them to "taste what the different careers (in veterinary medicine) are…explore, try to find out what you really like."  He also stressed the importance of getting involved in their local community through various groups and civic organizations to enhance their client relationships.
The students' enthusiasm was abundant as several expressed their excitement to begin what is for many a lifelong dream.  Jamaican vet student Annizette Slowley said, "I have always lovedanimals… there is a real need in the marine field. I want to work with marine animals. Although I lived in New Jersey, USA for 10 years, I am from Jamaica and coming to Grenada feels like coming home… I feel like I'm accomplishing something. .. I have the white coat; now I will earn it."
Another incoming SVM student also from Jamaica expressed an interest in Public Health with a focus in the area of meat inspection, ensuring that safety standards are maintained for consumption. His comment seemed to convey the spirit of the event, "I feel great; and I feel that I'm on the right track in choosing Grenada and St. George's University as the means of accomplishing my dreams and my desire to serve mankind."
https://www.sgu.edu/wp-content/uploads/2020/02/sgu-logo-grenada.svg
0
0
Erin Shaw
https://www.sgu.edu/wp-content/uploads/2020/02/sgu-logo-grenada.svg
Erin Shaw
2008-02-04 04:39:21
2017-01-18 02:35:08
School of Veterinary Medicine White Coat Ceremony Held on January 22, 2008