On January 26, 2009, the White Coat Ceremony of the School of Veterinary Medicine had special significance as it not only inducted 46 new students but marked the 10th anniversary year of the SGUSVM.  Dr. Gregory S. Hammer, a 30 year veteran of small animal and equine practice at the Brenford Animal Hospital in Dover, Delaware, a facility in which he is part owner and partner, delivered the Keynote Address.
As he addressed the incoming class, Dr. Hammer acknowledged the intense competition each student endures when they apply to veterinary school.  He then urged these students to put the competition aside and now encourage and mentor each other, as this "academic family" will serve as an inspiration for many years to come.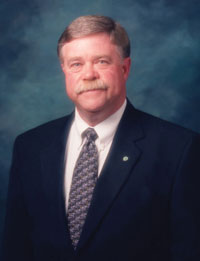 Dr. Hammer emphasized the great deal of responsibility these students will have as they become Doctors of Veterinary Medicine.  He stressed the importance of sharing their voice as professionals in their field and educating the public and government on issues of animal well being and public health.  He encouraged them to find this voice now by becoming active participants in the student AVMA, helping to shape the "bright" future of veterinary medicine.
In closing, Dr. Hammer expressed excitement for these students as they embark on this new endeavor, encouraging them to explore opportunities beyond the traditional careers in veterinary medicine, making specific reference to the fields of public health, food safety and bio-security.  "You are our future and I think we are in great hands," he said.
A recent graduate from the SGUSVM, Dr. Kara Tassone, served as the evening's Master of Ceremonies.  Dr. Tassone completed her Doctor of Veterinary Medicine degree at St. George's University School of Veterinary Medicine in 2007.  After graduation, she completed an internship in small animal medicine and surgery at the Animal Referral and Emergency Center of Arizona.  During her years at SGUSVM, Dr. Tassone was elected President of the Student Association American Veterinary Medical Association (SSAVMA), serving the student body proudly and effectively.  She is married to her classmate Dr. Michael Lemmon and currently lives and practices in the Phoenix area.
Dr. Hammer has had a distinguished career which includes Immediate Past President of the American Veterinary Medical Association (AVMA).  Prior to this position, he represented District II of the AVMA Executive Board for six years beginning in 1999, serving members in Delaware, District of Columbia, Maryland, New Jersey, Pennsylvania and Virginia.  During this time, he also served as vice-chair of the board and chair of the legislative advisory and long-range planning committees.
Dr. Hammer received his Bachelor of Science degree in 1971 and in 1973 received his Doctor of Veterinary Medicine from Kansas State University.  During his studies, he was inducted into the Phi Eta Sigma, Alpha Zeta and Phi Zeta honor societies.  Dr. Hammer received the Kansas State University School of Veterinary Medicine's Distinguished Alumni Award in 2001.
Dr. Hammer's career has included work in both the public and private sector.  While a captain in the US Air Force, he served as a veterinary medical officer from January 1974 to January 1976, and received the Meritorious Medal for his outstanding service. While stationed at the Dover Air Force Base, he practiced public health and food safety.  Then, in 1994, he was named honorary commander of the 436th Military Airlift Wing Medical Group.
As an active member of the Delaware Veterinary Medical Association (DVMA) since 1975, Dr. Hammer has made significant contributions to the DVMA in legislation, the securing of educational opportunities for Delaware veterinary medical students, participation in convention activities, public relations and the reorganization of the DVMA itself.  He was honored in 1997 with the Delaware Veterinarian of the Year Award.  On a local level, he has been involved in the Dover community and civic affairs as a member of the Dover Rotary Club since 1982 and member of its Board of Directors since 1991.
Dr. Hammer is also a member of the District of Columbia, Kansas, Maryland, Missouri, New Jersey, Pennsylvania and Virginia Medical Associations.   In 2008, he was honored by the Virginia Veterinary Medical Association as the state's Veterinarian of the Year.
https://www.sgu.edu/wp-content/uploads/2016/11/news-SVMWCC09-Hammer.jpg
261
200
jrichardsink
https://www.sgu.edu/wp-content/uploads/2020/02/sgu-logo-grenada.svg
jrichardsink
2009-01-30 16:49:13
2017-01-18 02:04:49
School of Veterinary Medicine White Coat Ceremony Held on January 26, 2009