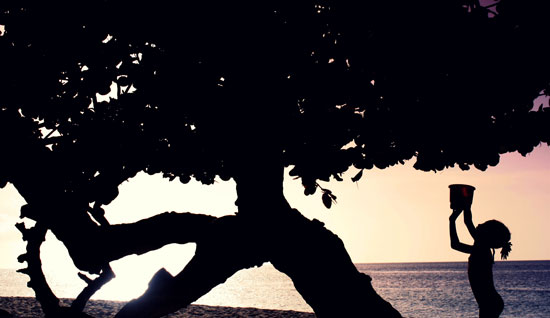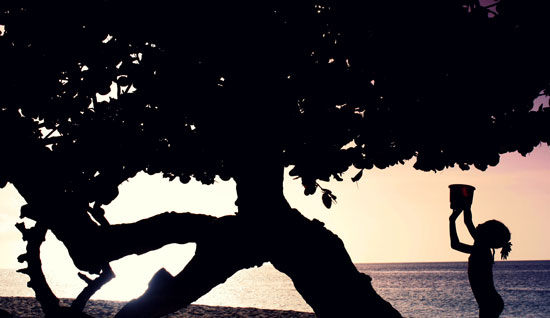 Hundreds of images were sent in from all over the world, and once again, the fifth annual "Focus: An SGU Perspective" Photo Contest has, in one way or another, captured the spectacular and international flavor of the St. George's University experience. After the votes were tabulated, "Sea Grapes," a photo taken by first-term veterinary medical student Lindsay Shephard, was named Best in Show.
Ms. Shephard captured the winning image while waiting to watch the sun set over Grand Anse Beach in August. The girl pictured was using a plastic bucket to catch sea grapes that her mother, higher up in the tree, tossed down to her.
"This picture has such an innocent feel to it," Ms. Shephard said. "The girl was perfectly content to spend her afternoon with her mom picking sea grapes. It's a reminder to enjoy the simplicities of life."
She snapped the photo using her Canon EOS Rebel XS. Days later, Ms. Shephard was officially welcomed into the School of Veterinary Medicine at its White Coat Ceremony at Adams Hall.
All placewinners will be published in the 2013 edition of Mace, the University's annual literary magazine, which also features stories and poems related to this year's theme, "Vision." You can also see them by visiting SGU's Facebook page.
"From a diverse blend of students, alumni, faculty, and staff comes imagery from all over the world that reflects the SGU family's unique makeup," said Margaret A. Lambert, Dean of Enrolment Planning, University Registrar and Director of Communications and Publications. "The beautiful array of discoveries on display in this year's photo contest demonstrates the full breadth of the SGU experience, whether it's down the street from the True Blue campus or around the world."
PHOTO CONTEST WINNERS:
Categories and submission details for the 2013 Photo Contest will be announced during the Spring 2013 term.
https://www.sgu.edu/wp-content/uploads/2016/10/news-2012photo-best-show.jpg
318
550
VS
https://www.sgu.edu/wp-content/uploads/2020/02/sgu-logo-grenada.svg
VS
2013-01-15 19:39:00
2017-01-18 00:37:33
"Sea Grapes" Named Best In Show For SGU Photo Contest