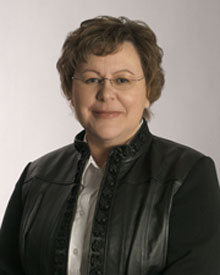 On Saturday, January 24, 2009, St. George's University welcomed a new class of students into the four-year Bachelor of Science in Nursing (BSN) degree program. Keynote Speaker Brenda Stutsky encouraged the 26 young men and women to begin their education as leaders. This had great significance as these students represented the second class to embark on this degree at SGU.
Chancellor Charles Modica and Provost Allen Pensick congratulated and welcomed the students to this important profession as it is their commitment which will help stem the current nursing shortage worldwide. "You have entered a very demanding and altruistic profession and have embarked upon a journey of lifelong learning," said Dr.  Pensick.   Chancellor Modica expressed proudly, "You are a small class, but you are not small in spirit."
Ms. Stutsky delivered a poignant Keynote Address as she drew upon the five main practices of leadership emphasized by James Kouzes and Barry Posner in their highly regarded book "Leadership Challenge." She challenged her audience to incorporate these strategies into their education and professional careers.
The first of these principles, "Model the Way," served as a powerful reminder that there will be many other students who follow their path, and they, as representatives of a new Nursing program, must lead by example as they pursue their dream and follow through with their commitment.
Since these students are fortunate to be part of this exciting endeavor at St. George's University,  Ms. Stutsky asked them to seize this opportunity to "Inspire a Shared Vision," not just in the Caribbean but throughout the world.   "Maybe your collective vision for this program is to be internationally recognized for producing extraordinary nursing graduates who are able to provide exemplary patient care not only here in Grenada, but around the world.  I want my colleagues in Canada to know about you," she exclaimed.
As this group of students is in many ways trailblazers, Ms. Stutsky impressed upon them to "Challenge the Process." Questioning policies, procedures and practices which originate from current evidence based knowledge versus accepting the "sacred cows" of nursing (nursing practices which have gone on for years but may not be the best and safest practice for quality patient care) define leadership. Betsy Stutsky continued to say that by asking "Why?" these students are also assisting the SGU faculty who will apply their constructive feedback to an evolving nursing curriculum.
According to Kouzes and Posner, a key component to a successful leader is the "we" factor, as a true leader uses the term "we" far more frequently than "I." Providing quality health care to a patient is, in fact, a team effort where each healthcare professional plays an integral role in a successful outcome.  Ms. Stutsky explained to her audience that their role as a nurse both provides support for their team, but in-turn requires support in order to perform at their best.
The final aspect to successful leadership was less strategic in thought and humanistic in practice. Ms. Stutsky simply asked the students to encourage their colleagues, as positive feedback and support will sustain them through the difficult and challenging periods of their education.
In closing, this dedicated and inspiring woman congratulated the students as they begin a new chapter in their lives; and as she showed them a newspaper headline from the morning after the US Presidential election of Barack Obama, she explained that like this new President, these students are also leaders beginning the process of fulfilling a dream.
Brenda Stutsky, a registered nurse in Canada for over 25 years, has played an integral role in nursing education programs for the past 17 years.  She holds an appointment as an Assistant Professor in the Faculty of Nursing at the University of Manitoba and is currently the Director, Nursing Education at the Health Sciences Centre in Winnipeg, a major tertiary hospital in Canada employing approximately 7,000 health professionals and support staff.  Ms. Stutsky is also responsible for leading just over 30 nurse educators in the orientation and continuing education of about 2,300 nurses employed at the hospital.
Ms. Stutsky graduated with a diploma in nursing from the Misericordia General Hospital School of Nursing in Winnipeg, Canada in 1983.  Over the past 25 years, her clinical practice has focused on women's health, emergency nursing, coronary care nursing and intensive care nursing.
She is a lifelong learner, completing a certificate in Intensive Care Nursing, a baccalaureate nursing degree from the University of Manitoba, and a master of science in nursing degree from the University of Western Ontario in London, Ontario, Canada.  In 2008, Ms. Stutsky completed an Educational Specialist degree from Nova Southeastern University in Florida, where she is now completing her doctoral dissertation in Computing Technology in Education.  The focus of her dissertation is empowerment and leadership development of Canadian nurse educators participating in an online story-based learning community.
St. George's University's Nursing Program was conceived as a response to the mandate by the Caribbean Community (CARICOM) that all nurses in the region hold a BSN degree by the year 2010.  This program is uniquely structured to allow enrollees, after 30 months, to sit regional and international licensing exams.  Upon successful completion of these exams, the students can enter the workforce while completing their studies.
https://www.sgu.edu/wp-content/uploads/2016/10/news-stutsky.jpg
275
220
jrichardsink
https://www.sgu.edu/wp-content/uploads/2020/02/sgu-logo-grenada.svg
jrichardsink
2009-01-13 19:55:29
2017-01-18 02:09:01
Second Class in Nursing Program Commences