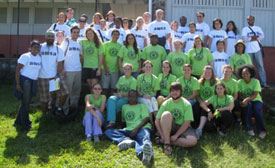 On Saturday, March 1st, 15 SVM and 30 SOM student volunteers joined forces for the second "One Health, One Medicine" Clinic, a collaborative effort delivering valuable health care and information to members of the community. The response was tremendous, with many individuals receiving assistance at the River Salle Government School in the parish of St. Patrick.
The "One Health, One Medicine" Clinic was first spearheaded in November 2007, by SVM student Brittany King, and the credo was again brought to life in this important event. The concept focuses on the convergence of animal, human and ecosystem health; addressing them collectively is critical to improving health care worldwide.
The Student Affiliate of the American Veterinary Medical Association (SAAVMA) assembled 50 doggie goodie bags which included educational literature on rabies, important contact information, a Zoonotic track sheet and bright green "#1 Paw Print" bandanas.
Although March 1st was only days before midterms, students were eager to participate in the Clinic.  SVM and SOM volunteers set up their respective facilities on the grounds of the River Salle Government School, with the SOM portion of the clinic using the school itself to perform various diagnostic procedures. According to Lorenzo Zanotti, President of AMSA, over 125 patients, from infants to the elderly, were examined.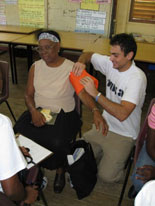 With the assistance of the Pediatric Club and Women in Medicine (WIM), subgroups of AMSA, a complete patient history was taken to help determine the primary medical concern and complaint.  All patients were evaluated for glucose level, auditory and visual capacity, respiratory rate and blood pressure.  Volunteers from WIM performed breast exams for the women.  Lorenzo explained that patients were also provided with educational materials as well as important contact information for healthcare professionals in the area.
https://www.sgu.edu/wp-content/uploads/2020/02/sgu-logo-grenada.svg
0
0
Erin Shaw
https://www.sgu.edu/wp-content/uploads/2020/02/sgu-logo-grenada.svg
Erin Shaw
2008-03-17 03:18:40
2017-01-18 02:32:28
Second "One Health, One Medicine" Clinic a Success