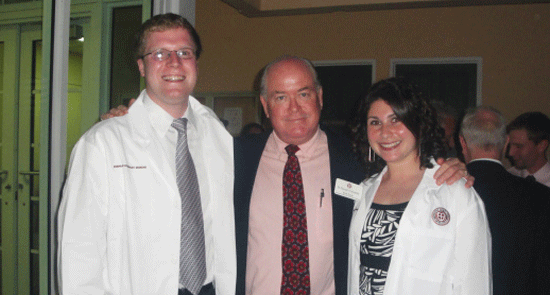 Greg Brethel and Sara Rosen (shown with Bob Ryan, Associate Dean of Enrolment Planning) enrolled in the St. George's University School of Veterinary Medicine in January 2012. 
For a year, Sara Rosen and Greg Brethel worked together at the Town of Hempstead Department of Conservation and Waterways in New York. When the opportunity arose to join the St. George's University School of Veterinary Medicine's January class, the two friends and colleagues jumped at it. And they're glad they did.
"Honestly, it's been phenomenal," Rosen said of her first month on the True Blue campus. "It really has. The classes are obviously difficult and stressful, but I can literally see the ocean outside my window in my dorm room. If you have a stressful day, you can go to the beach, relax for an hour, and come back focused."
Their interest was piqued when Dr. Eileen Rowan, a Long Island-based veterinarian who conducts interviews for St. George's University, visited the Town of Hempstead's Point Lookout location and spoke highly of the University's curriculum, resources, and campus. Both Rosen and Brethel applied, and less than a month later, the two New Yorkers were packing for Grenada.
Rosen has had field experience in zoology and biology but still felt herself being drawn to medicine.
"I found myself wanting something more, and now I know that that's what I'm supposed to do," Rosen said. "Of everything I've done, never was I happier than when I was a vet."
In particular, she is interested in working with exotic animals, a chance that St. George's, recently accredited by the American Veterinary Medical Association Council on Education, has afforded her. "To be able to determine whether or not a red-tailed hawk can be re-released into the wild, I would want to play a role in that," she said.
While the workload at SGU has proven to be substantial, Brethel appreciates all that the University has to offer. He and Rosen worked side by side with the Town of Hempstead; now they are following the same path as first-year veterinary medical students.
"Everything's been great – the anatomy labs, the classrooms, and the faculty have been very engaging and good with introducing the material to us," he said. "The education we're getting is really on par with any vet school in the United States."
https://www.sgu.edu/wp-content/uploads/2020/02/sgu-logo-grenada.svg
0
0
jrichardsink
https://www.sgu.edu/wp-content/uploads/2020/02/sgu-logo-grenada.svg
jrichardsink
2012-03-02 19:19:58
2017-01-18 01:01:27
Seizing the Opportunity: Friends, Co-Workers from New York Follow Path to Grenada