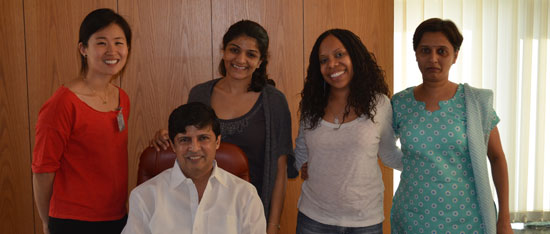 Shania Flagg and Mary Ann Son have had experiences with the diversity of medicine. Through their experience in the Keith B. Taylor Global Scholars Program in the UK and in Grenada, and their clinical rotations throughout the US, they had grown accustomed to visiting with patients and working with colleagues from around the world.
But this was different.
Launched in February, Flagg and Son were the first students to embark on a unique one-month elective at Krishna Institute of Medical Sciences (KIMS) University in Karad, Maharashtra, India. It is the first elective available in India to SGU's fourth-year medical students, and provides even more intensive hands-on clinical experience.
For Flagg, the India elective punctuated her global health experience, which she feels has broadened her perspective and her capabilities as a doctor.
"An experience like the one I had India really strengthens you as a doctor and builds your character," she said. "Doing this elective is the epitome of what a global medical scholar should be doing."
The Association of American Medical Colleges (AAMC) is on board as well, encouraging medical students to experience international medicine through its Global Health Learning Opportunities initiative, a pilot program to facilitate clinical, global health, and research elective rotations globally for final year medical students. Dr. Shivayogi Bhusnurmath, dean of academic affairs at SGU, hopes that future students will seize the opportunity. Students have had the opportunity to do electives at Princess Marina Hospital in Gabarone, Botswana , and now India. Dr. Bhusnarmath hopes that more international electives will be developed at St. George's University.
"We are already ahead of the curve," he said. "Having international experience is the top priority. If you talk to anyone in the medical field, they want students who can handle patients from various backgrounds because there are immigrants from all over the world in the US. It's very important to have that global exposure."
SGU has many international selectives in various countries, including Kenya, Thailand, India, the Czech Republic, and Sweden, which are basic science experiences giving students a look at international medicine. The elective in India is one of the first, formal international clinical rotations. Dr. Bharti Bhusnurmath, professor of pathology and director of the medical pathology diagnostic lab at SGU, began the search for such an opportunity more than three years ago. KIMS University has an established residency program necessary for it to be an SGU-approved rotation, a large and diverse student and patient population, and a strong faculty – all of which made it the perfect fit.
Flagg, a fourth-year medical student rotating in New York City, joined Son, a fourth-year OB/GYN, as the first SGU students to enroll in the elective. The KIMS staff encouraged Flagg to partake in facets of medical care she found particularly interesting, including participating in as many surgeries as she could. In addition to the hands-on experience, Flagg benefited from working with international faculty and treating individuals from a different culture.
"There aren't as many resources in India as there are in the US, and that forced you to be really creative," Flagg said. "It was great to see how they deliver quality health care without relying on the same amount of tools that we have here in the US."
Flagg completed her Doctor of Medicine in April and will report to her family medicine residency at St. Joseph's Hospital – SUNY Upstate in Syracuse, NY, in June. She studied at Northumbria University in the UK as part of the KBTGSP and traveled throughout Europe in her spare time. She also studied in Grenada, spent the one month in India, and completed her rotations at three different hospitals in New York City.
"From when I first started medical school until now, I feel like I have evolved so much," she said.
Son immersed herself in the community's efforts related to preventive medicine and women's health. She also wanted to gain more hands-on surgical experience, and with a steady flow of patients at the clinic, she estimated that she saw more vaginal hysterectomies performed during her one-month rotation in India than all her other rotations combined.
"It was great to go out into the world and see how they were making health a priority, even with their limited resources," Son said.
After rotating in New York, Michigan, Florida and Illinois in her third and fourth years, the India selective was Son's final rotation before earning her MD. She begins her OB/GYN residency at St. John Hospital and Medical Center in Michigan in June.
"The experience in India was really enriching," said Son. "I'll never forget it."
https://www.sgu.edu/wp-content/uploads/2016/10/news-india-elective.jpg
234
550
VS
https://www.sgu.edu/wp-content/uploads/2020/02/sgu-logo-grenada.svg
VS
2013-06-24 14:00:02
2017-01-18 00:20:15
SGU Clinical Students Experience Unique International Elective