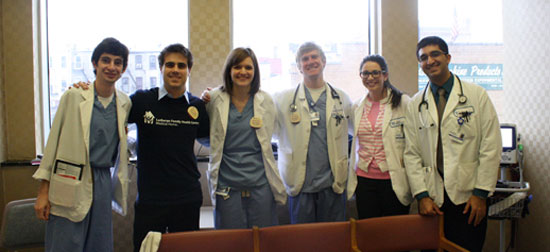 St. George's University students are well known for their philanthropic efforts in Grenada – and this doesn't stop once they leave campus. SGU School of Medicine students Mila D'Cunha and Mathew Lopez, while on clinical rotations at Lutheran Medical Center (LMC) in New York, established the SGU Medical Student Outreach program (SGU MSO) to help address the need for basic health care and education for underrepresented citizens in Brooklyn.
Its debut event, "Go Red Day," was held in February at LMC. The organization's volunteers screened approximately 100 individuals; among tests performed were for vital signs, blood pressure, and blood glucose levels, as well as the administration of breast exams. They also asked individuals whether they were up to date on their mammograms and colonoscopy screenings, as well as informed them how to live a healthier lifestyle through exercise and an improved diet.
"A significant number of individuals do not readily seek medical attention," Lopez said. "Oftentimes, patients seek medical care after they have become symptomatic or developed a chronic illness. We think it's very important to catch these individuals early because they don't necessarily know that they have these issues."
With the help of Dr. George T. Martin, Chair of Medicine at LMC, and marketing coordinator Kathy Johannesen, SGU MSO has spread the word about its mission. Other events have included a visit to an independent living facility to screen senior citizens, another to The International School of Brooklyn to educate children about the negative effects of obesity and benefits of a healthy lifestyle, as well as an Arab-American symposium at Bay Ridge Manor, where Dr. Salman Azhar, the director of LMC's Stroke Center and chief of rehabilitation services, spoke on the symptoms of and ways to prevent stroke. Dr. Azhar's presentation was actively translated in Arabic and over headphones made available to those who attend.
The organization will aim to host two events each month, and Lopez said it has set a goal of screening "at least 1,000" people this year. Two central issues on which the group educates the public are hypertension and diabetes.
"These are common chronic illnesses," D'Cunha said. "Many people have it and there isn't necessarily a physical sign yet they're underlying causes for heart problems and many other conditions."
As SGU features a faculty, staff and student body comprised of individuals from 140 countries, University medical students have learned to communicate with a diverse group of people. While on the True Blue campus, D'Cunha and Lopez had screened Grenadian citizens at health fairs through the American Medical Student Association (AMSA).
"They were a great teaching opportunity for medical students who volunteered because of all the patient interaction," she said. "They allowed you to practice those skills and I think Mathew and I were both really prepared by the time we got to New York."
SGU MSO has more than 40 volunteers who have committed to the program.
"We're very happy is the interest from our fellow classmates," D'Cunha said. "They're very enthusiastic. It's very nice that we can all get together and reach out to the Brooklyn community."
https://www.sgu.edu/wp-content/uploads/2016/10/news-making-impact-healthcare-brooklyn.jpg
252
550
jrichardsink
https://www.sgu.edu/wp-content/uploads/2020/02/sgu-logo-grenada.svg
jrichardsink
2012-05-24 19:23:20
2017-01-18 00:55:00
How SGU Clinical Students are Making an Impact on Health Care in Brooklyn