Ellen Ratner and Jim Pinkerton to be Conferred Degrees at School of Medicine Commencement
St. George's University (SGU), the pioneering medical school in Grenada, which has done much to expand access to medical education around the world, announced today that it will confer an Honorary Doctorate of Humane Letters to two American pioneers, Ellen Ratner and James P. Pinkerton at the June 17th Commencement Ceremony at Lincoln Center in New York City.
Ellen and Jim have much in common. They share a common interest in health issues and work tirelessly to help get medical care to those in need. In addition, Ellen and Jim are Fox News Channel Contributors – on opposite sides of the political spectrum; Ellen on the political left and Jim on the political right. Indeed, for more than a decade, Ellen and Jim were paired on "Fox and Friends," the Fox News channel's perennial #1-rated morning news program. Their running segment was known as "The Long and Short Of It," playing Ellen's petite physical stature against Jim's large frame. Despite their disagreements on many issues of policy and politics, Ellen and Jim are close personal friends who have always celebrated each other's professional success.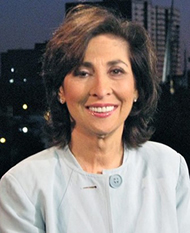 Ellen Ratner is a long time friend and ally to St. George's University, having visited the campus as a prospective medical student way back in 1978. At the time Ellen had a successful career in mental health with a focus on psychiatric day treatment, and addiction and recovery and decided that, instead of medicine, she would use her MA in Education, Harvard, to focus on mental health and adult education. In 1990 she authored The Other Side of the Family, which led to her current profession as a White House Correspondent and Bureau Chief for The Talk Radio News Service and twenty years as a news analyst on Fox News Channel. She has also covered the White House, over two decades and three presidents, but her passion is making the world a better place.
It is for her continued focus on adult development and education that SGU honors her. Ellen has invested in diverse populations, beginning with co-founding an Education Center for post-Katrina survivors in DeLisle, Mississippi. More recently, she launched a non-profit, Goats for the Old Goat, aimed at helping the people in South Sudan. The charity, launched on Ellen's 60th birthday, has donated over 5000 goats, which help sustain families in need. Thanks to her work as a WINDREF Board member she has helped to spearhead St. George's University's Peace Through Medicine initiative for South Sudan. St. George's University educated a dozen pre-medical students from South Sudan, and recently launched an initiative to deliver some undergraduate and basic sciences course content to students in South Sudan. These students have no library or consistent lectures. Ellen delivered 115 e-tablets with the St. George's University physiology course to South Sudan. The students, learning starved, were astounded that an organization would go to the trouble and expense for people they didn't know in distressed, war-torn South Sudan." This Cleveland Ohio native has taken the St. George's University motto of Think Beyond one step further to Go Beyond.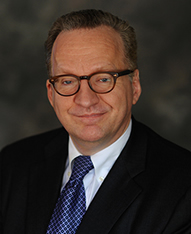 Jim Pinkerton is known for being a man of big ideas who has given lectures at St. George's University. He has been a political commentator, columnist, and White House advisor since the early 1980's. He has been a contributor to the Fox News Channel since its inception in 1996. Well known around Washington by both political parties as an innovative thinker, since 2009 he has devoted much of his time to the "Cure Strategy," aimed at changing the way American policy makers think about disease. His Cure Strategy redirects our focus from treatment to a cure. His personal mantra is, "A cure is less expensive than care. It's cheaper to beat than to treat." Jim believes that America has untapped potential for greatness and should follow in the footsteps of President Franklin Roosevelt when the 32nd President called for Americans to send in their dimes to the White House to cure polio which became the famous, long-lived and resoundingly successful March of Dimes.
In addition, Jim serves as a member of the board of the Institute for Human Virology (IHV) at the University of Maryland, Baltimore, where he offers public-policy advice to the medical and scientific team at IHV led by Dr. Robert Gallo, the co-discoverer of the AIDS virus. He is also the author of What Comes Next: The End of Big Government–and the New Paradigm Ahead (Hyperion: 1995). Married to the former Elizabeth Dial, he is a graduate of Stanford University.
St. George's University is both proud and honored to have both Ellen and Jim as friends of the school.
PR Newswire:
http://www.prnewswire.com/news-releases/trailblazing-medical-school-confers-degrees-on-two-trailblazers-300092600.html – See more at: https://www.sgu.edu/news-events/news-archives15-SGU-to-Confer-Two-Honorary-Degrees.html#sthash.bYZ67ZNh.dpuf
https://www.sgu.edu/wp-content/uploads/2016/10/Ratner-Ellen.jpg
233
190
VS
https://www.sgu.edu/wp-content/uploads/2020/02/sgu-logo-grenada.svg
VS
2015-06-02 15:14:30
2017-01-17 23:27:10
SGU to Confer Two Honorary Degrees