More than half of doctors, veterinarians, and public health specialists responding to the first "One World, One Health, One Medicine" poll from St. George's University believe that a shrinking world is more at risk for a pandemic caused by emerging diseases, as more people travel, and no city is now more than 24 hours distance from each other.
The international University recently polled its alumni from the Schools of Medicine and Veterinary Medicine in response to a spate of news reports on new viruses and diseases, from Ebola in Africa, to West Nile fever in Dallas, TX, cropping up across the world.
QUESTION
Which of the following statements best reflects the reason for recent stories about Ebola in Africa, West Nile fever in Dallas, Texas, and hantavirus pulmonary syndrome in Yosemite National Park?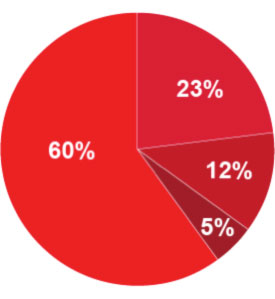 HERE ARE THE RESULTS:
60% said "A shrinking world is more at risk for a pandemic caused by emerging diseases, as more people travel and no city is now more than 24 hours distant from another."
23% said "Our ability to diagnose emerging infectious diseases is so much better than in the past and today causes of death are being better identified."
12% said "There is not a greater incidence of emerging disease than in centuries past, just a greater dissemination of information through the internet and 24 hours news cycles."
5% said "None of the Above"
Source: Poll of St. George's University alumni conducted March 2013
https://www.sgu.edu/wp-content/uploads/2016/10/news-primary-cause-global-disease.jpg
299
275
VS
https://www.sgu.edu/wp-content/uploads/2020/02/sgu-logo-grenada.svg
VS
2013-04-30 13:45:48
2017-01-18 00:26:38
SGU Doctors Say Increased Mobility is the Primary Cause of Global Disease