A $125,000 grant from the US Fish and Wildlife Service (USFWS) for a new leadership-training program based at St. George's University has ensured that young conservationists will be prepared to lead the region toward establishing and maintaining healthy, functional ecosystems for many years to come. Set to begin in May 2015, the Conservation Leadership in the Caribbean (CLiC) program aims to jumpstart the careers of 20 young professionals by teaching them the skills to launch, develop, and implement successful conservation campaigns, while connecting them with existing leaders in the field.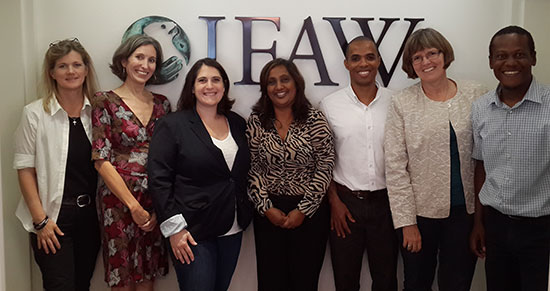 "We hope to facilitate the development and empowerment of capable individuals by equipping them with the essential skills to be future leaders in the realm of conservation," said Dr. Andrea Easter-Pilcher, a Professor in SGU's Department of Biology, Ecology, and Conservation and one of three Academic Advisors on CLiC's Board of Directors. "The participants will be working over international borders on project teams made up of other young leaders from different countries, which will provide valuable experience they can take with them in their careers."
CLiC expands upon a two-year pilot leadership-training program, Caribbean Emerging Wildlife Conservation (CEWCL), which mimicked the Emerging Wildlife Conservation Leaders (EWCL) training program, a successful venture in the US for the past decade. CLiC candidates must be Caribbean or Latin American residents and have completed their bachelor's degree in a related field. Selectees will be broken up into five teams, and each team will launch a research conservation initiative with the help of an assigned mentor. A second training session will take place at SGU in May 2016, and the participants will graduate from the program in October 2016. Throughout the eighteen- month period, students will work collaboratively toward the initiative's end goal of effective regional networking and action to achieve sustainable conservation across the region.
The program is funded by the USFWS Division of International Conservation's Wildlife Without Borders program. Grant funds will be used predominantly to facilitate travel and lodging for participants taking academic courses within the program's curriculum, as well as stipends for course professors. Dr. Easter-Pilcher hopes that, like its counterpart in the US, the CLiC training program will become a recurring opportunity for emerging conservation leaders in the region, including graduates of SGU's marine, wildlife, and conservation biology program.
"The investment being made will pay dividends for marine and terrestrial conservation across the Caribbean and Latin America by strengthening professional conservation capacity of emerging leaders," Dr. Easter-Pilcher said. "Successful graduates of the program are expected to take up leadership roles in their home countries as well as hold their own in the international conservation arena."
The CLiC program is directed by Nadra Nathai-Gyan, Conservation Advisor to the Zoological Society of Trinidad and Tobago. She and Dr. Easter-Pilcher are joined on the Board of Directors by Kelvin Alie, Washington DC Program Director, Wildlife Trade, International Fund for Animal Welfare; Dr. Leo Douglas, President, BirdsCaribbean; Michelle Behnam, Producer, Discovery Learning Alliance; and Dr. Heather E. Eves, Visiting Assistant Professor, Virginia Tech University, and Professorial Lecturer, Johns Hopkins University. The board will enlist the help of many experts and known conservationists in the region who have expressed interest in participating as mentors, trainers, or in another capacity.
"CLiC is an initiative that was long overdue," Ms. Nathai-Gyan said. "Among its many merits is the opportunity it affords for those of us in the Caribbean who have attained leadership attributes to transfer our skills and knowledge to those whom we are now entrusting our natural heritage."
https://www.sgu.edu/wp-content/uploads/2016/10/news-Easter-Pilcher-CLiC-Board-of-Directors-and-Past-Coordinator.jpg
291
550
jrichardsink
https://www.sgu.edu/wp-content/uploads/2020/02/sgu-logo-grenada.svg
jrichardsink
2014-11-14 19:53:26
2017-01-17 23:44:14
SGU Faculty Member Helps Secure Grant to Groom New Conservation Leaders