Over 200 clinical anatomists from over 13 countries will converge at St. George's University from July 8 to 13 for the 29th annual conference of the American Association of Clinical Anatomists (AACA). Grenada will be the fourth country outside of the United States to host this conference, following Canada, England, and Austria. Participants will include anatomists, medical educators, and surgeons along with several students.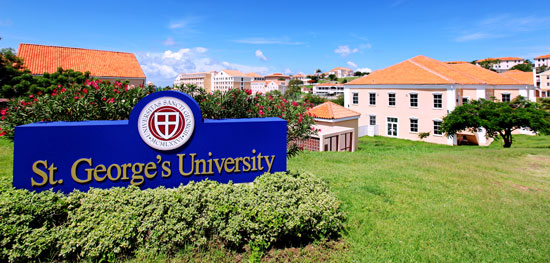 "It is our pleasure to host the 29th annual meeting of the AACA on campus and to provide a meeting of high scientific quality with oral presentations, posters, video presentations, and a postgraduate course dedicated to ultrasound and medical education," said Dr. Marios Loukas, Professor and Chair of SGU's Department of Anatomical Sciences. "The combination of a Caribbean environment and the excellent academic center of St. George's University will provide participants with unique opportunities for collaboration, exchange of ideas in anatomy, education and innovation, and an update of the latest developments in all the topics of clinical and surgical anatomy."
Twelve St. George's University medical students alongside 10 faculty members from the Department of Anatomical Sciences will make eight oral and eight poster presentations at the conference. On the final day of the conference, the Department of Anatomical Sciences will present its postgraduate course.
"SGU is among the pioneers of introducing ultrasound into the anatomy curriculum and have been doing it for the last two years, which is why we are able to teach other schools how to do this technique and how to introduce it in their curriculum," Dr. Loukas said. "This is a very big innovation right now."
The AACA is an organization focused on advancing the 'science and art of clinical anatomy.' It encourages research and publication in the field and maintaining high standards in the teaching of anatomy. The organization caters to individuals of various backgrounds involved in research, clinical practice, clinical research, teaching in accredited colleges and universities, administrative or other experience in the field of anatomy. St. George's University has been part of the AACA for approximately 15 years.
https://www.sgu.edu/wp-content/uploads/2016/10/news-sgu-dphpm-4.jpg
263
550
jrichardsink
https://www.sgu.edu/wp-content/uploads/2020/02/sgu-logo-grenada.svg
jrichardsink
2012-07-05 19:45:13
2017-01-18 00:51:13
SGU to Host 29th Annual American Association of Clinical Anatomists Conference