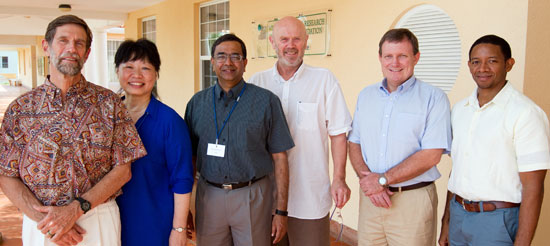 Photo (L- R) Professors Labarthe, Khaw, Reddy and Poulter, Dr. Macpherson and Brendon LaGrenade, Coordinator of Support Services, SGU
St. George's University welcomed 31 of the world's leading cardiovascular and epidemiology specialists to the 43rd International seminar on Cardiovascular Disease Epidemiology and Prevention. The Ten-Day Teaching seminar will run for the period June 26- July 8 and participants, who include two members of faculty at St. George's University, Drs. Johansen Sylvester and Dolland Noel, represent twenty-four (24) different countries.
In addressing the physicians during the opening session, Dr. Calum Macpherson, Director of WINDREF (Windward Islands Research Facility), stated, "We are delighted to have the faculty and participants here at St. George's University. We regard ourselves as an international institution and this seminar links very closely to our philosophy as a University."
Facilitators include experts in the field of hypertension, aging and cardiovascular diseases, stroke epidemiology and disease prevention and control. Among the diverse group of participants are also bio-statisticians, nurses, behavioral scientists and nutritionists.
According to Professor Darwin Labarthe, one of the Coordinators, the seminar is designed to introduce and educate young professionals without substantial experience in research or teaching in the science of preventions, on various methods of prevention as it relates to heart diseases, stroke, hypertension, high cholesterol and diabetes. He says the primary objective of the seminar is "to introduce young professionals to the current knowledge and methods of research in heart disease and stroke. The goal is for them, after this experience, to be able to work more effectively in their home-based organizations, agencies and institutions."
Dr. Labarthe further explained that, over the past twenty years emphasis has been placed on developing countries, having recognized the burden placed on these economies by an increase in cardiovascular and other chronic diseases. It is because of this that the seminar has been strategically located. He says, "This has been a very successful approach and has greatly increased representation from developing countries."
The annual seminar retains a general format from year to year, and includes both lectures and group activities about the latest science in cardiovascular diseases and epidemiology, as well as an introduction to the methods of research within the field.The International Ten Day Teaching seminar on Cardiovascular Disease Epidemiology and Prevention began in 1968 by what is now known as the World Heart Federation, out of a recognized need for training throughout the world and physicians and other persons interested in research, teaching and practice in the prevention of cardiovascular diseases. Since 1968 the seminar has been held in twenty-four different countries, with Grenada being the first English speaking Caribbean to play host.
https://www.sgu.edu/wp-content/uploads/2016/10/news-cardiovascular-disease-epidemiology-prevention.jpg
246
550
VS
https://www.sgu.edu/wp-content/uploads/2020/02/sgu-logo-grenada.svg
VS
2011-07-08 18:07:32
2017-01-18 01:14:20
SGU Hosts 43rd International Seminar on Cardiovascular Disease Epidemiology and Prevention