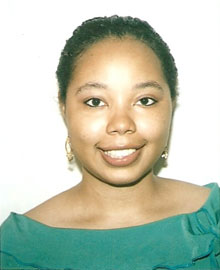 Michelle Ash is the first recipient of the coveted Organization of American States (OAS) Scholarship to attend St. George's University. Michelle will be joining St. George's University this fall as an incoming Master of Public Health student, and is one of only five recipients of the OAS Graduate Academic Scholarship from the OAS Member States of Trinidad and Tobago. " I am quite excited that my OAS scholarship has allowed me the opportunity to further my knowledge and skills at such a highly recognized and respected institution," said Michelle.
Michelle is joining the Department of Public Health and Preventive Medicine at a very exciting time. The US accreditation authority for public health programs, The Council on Education for Public Health (CEPH) has recently granted accreditation for five years to St. George's University's Master of Public Health Degree Program. This makes St. George's University only the fourth institution outside of the United States to be accredited by CEPH and the only university in the Caribbean to hold this distinction.
To date, Michelle has dedicated herself to a career in Dietetics & Nutrition. After graduating with a BSc in Human Nutrition & Dietetics from the University of West Indies, she completed a one-year dietetic internship to qualify as a Registered Dietician in her home country of Trinidad, sharing her expertise in an effort to combat the rise of obesity, diabetes, and heart disease. "Helping those who may not have the same opportunities that I have had in my lifetime thus far is of utmost priority to me."
Michelle is an individual with a clear vision for her future. After graduating from St. George's University, she plans to return home to Trinidad as a dietitian and specialized public health educator. She hopes to apply her Master of Public Health degree to chronic disease prevention and lifestyle management applying medical nutrition therapy to those individuals already diagnosed with chronic diseases, paying special attention to kidney disorders, cancer patients, and persons living with HIV/AIDS.
When asked about specific research opportunities, she expressed a keen interest in alternative medicine such as herbal remedies indigenous to the Caribbean region. "A great deal of research still needs to be done on the safety, chemical makeup, functions, side effects, and food-drug interactions of local and regional herbs," said Michelle. She hopes to get involved in the collection and analysis of data to uncover current trends and associations relating to eating patterns within the Caribbean region.
Michelle is passionate about the need for improved preventative health care in the developing nations of the Caribbean, and is a fervent believer that a sound investment in preventative health care now will result in long-term reduction of total annual health care expenditures of these countries. She continued, "Public Health nutrition plays a vital role in decreasing the number of new chronic disease cases diagnosed every year, as well as reducing the excessive demand for medications and surgeries which result from complications arising from poorly managed chronic diseases."
The future is bright for Michelle Ash, and so too for the communities her expertise and dedication will transform. She looks forward to making contributions through grassroots program development, as well as national health sector reform through policy planning and implementation.
The OAS was established in 1948 with the signing of the Charter of the OAS. It was created to achieve among its 35 independent member states of the Americas, as stated in Article 1 of its Charter, "an order of peace and justice, to promote their solidarity, to strengthen their collaboration, and to defend their sovereignty, their territorial integrity, and their independence." The Organization of American States constitutes the principal political, juridical, and social governmental forum in the Hemisphere.
The OAS supports human resource development throughout its member states and beyond. Grenada became a member state in 1975. The OAS encourages and supports active scholarship opportunities and participation throughout its Consortium of OAS Universities, a list of reputable education institutions to which St. George's University is proudly associated.

https://www.sgu.edu/wp-content/uploads/2016/10/news-michelle-ash.jpg
270
220
VS
https://www.sgu.edu/wp-content/uploads/2020/02/sgu-logo-grenada.svg
VS
2010-08-18 17:41:25
2017-01-18 01:31:45
SGU Incoming Student Recipient of Coveted OAS Scholarship