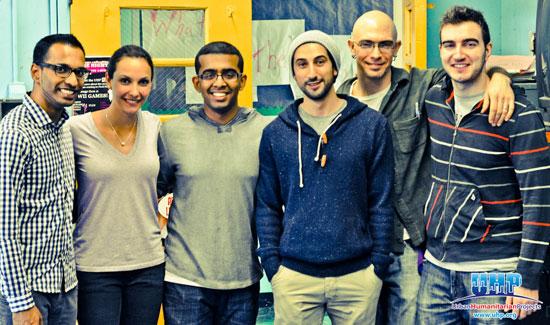 Since its founding in 2009, Urban Humanitarian Projects (UHP), a New York-based non-profit organization comprised of St. George's University medical students, has concentrated its activities on serving underprivileged children in New York City.  Its latest venture, the Urban GURUS Project, was formed to combat high dropout rates in the city's public high schools by introducing students from Park Slope Collegiate High School in Brooklyn to college and career opportunities.
It began with the wildly successful Urban Santa Project which delivered gifts to more than 1,000 underserved children in New York City on Christmas morning.  GURUS, which stand for "Guidance, Unity and Resources for Urban Success," followed it up by hosting a Build-a-PC workshop on Saturday, January 7.
Twenty-eight computers were donated by InnovatePC.com for the Build-a-PC event, during which mentors and mentees worked to construct a computer from scratch. Upon its completion, mentees were allowed to keep the computers they helped build.
"We wanted to make sure that it was a challenge," UHP founder Santhosh Cherian said. "Working together to solve a problem or puzzle builds a stronger bond and we're hoping this bond extends beyond this single event."
Maria Lagopoulos and Irem Kaplan coordinated the GURUS Project which will run through this academic year and resume in September with another class of students. GURUS works in conjunction with high schools and the New York City Department of Education.
According to reports from BoostUp, a national high school dropout prevention campaign, 32 percent of high school students in New York State either drop out or do not graduate in four years. At the root of the GURUS Project's mission is the belief that two central facets form the foundation for educational success: guidance and resources.
"Not only is education important, but with access to technology, students have unlimited potential," Cherian said. "It's not that we're trying to promote college necessarily. When they graduate from high school we just want them to have considered that as an option or, if they want to open their own business, to have the resources available to do that."
Cherian, a third-year medical student who is rotating at Lutheran Medical Center in Brooklyn, New York, started UHP, a 501(c)(3) non-profit organization, in 2009 while on the University's True Blue campus in Grenada. The first GURUS meeting took place this past December when mentors and mentees spent three hours wrapping gifts in preparation for Urban Santa.
Of the 19 mentors, all of which are based in New York and New Jersey, 16 are third- and fourth-year SGU students. GURUS plans to host group meetings monthly, and mentors and mentees are committed to getting together at least twice a month for activities of their choice.
St. George's Chancellor Charles R. Modica, who advocated for the inclusion of high school students as part of the organization's initiative, donated $6,000 to launch the program.
https://www.sgu.edu/wp-content/uploads/2016/10/news-med-students-urban-children-under-wing.jpg
325
550
jrichardsink
https://www.sgu.edu/wp-content/uploads/2020/02/sgu-logo-grenada.svg
jrichardsink
2012-02-08 19:33:36
2017-01-18 01:03:36
SGU Med Students Take Urban Children Under Their Wing