St. George's University mourns the loss of Dr. Leon Smith, the former Chief of Medicine at St. Michael's Medical Center who first welcomed SGU students to conduct clinical training in New Jersey. Dr. Smith, a renowned infectious disease specialist and longtime ambassador for SGU, passed away on December 19, 2016. He was 87 years old.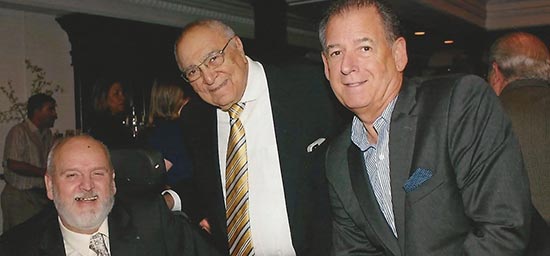 "We are eternally grateful for the role – and the chance – that Dr. Smith took in welcoming SGU students during the University's early years," said Dr. Stephen Weitzman, Dean, St. George's University School of Medicine. "He and St. Michael's not only provided superior clinical training for our students, but its willingness to open its doors to us led to many more opportunities elsewhere."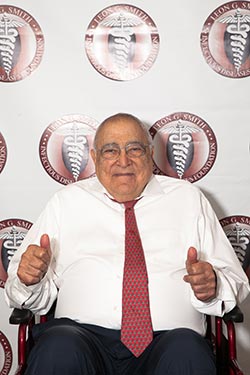 "Dr. Smith was the cornerstone for our clinical programs in New Jersey and in the United States," added Dr. Daniel Ricciardi, MD SGU '81, Dean of Clinical Studies in the United States. "He was a tremendous ambassador for the school and our students."
As Chief of Medicine at SMMC, Dr. Smith appointed Joseph Pellicano as the Director of Medical Education and together they welcomed St. George's University clinical students for the first time in 1979. It was the first comprehensive five-core rotation in the Garden State. Since then, more than 1,300 students have rotated through St. Michael's, and SGU students can currently train at more than 70 hospitals and clinical centers throughout the United States, United Kingdom, Canada, and Grenada.
"Dr. Smith was this towering, magnanimous man with an amazing, embracing smile," said Dr. Orazio Giliberti, MD SGU '82, Associate Dean of Clinical Studies in the United States. Dr. Giliberti completed his rotations and intern year at SMMC in the early 1980s. "Dr. Smith would take you in and say 'let me teach you,'" he recalled. "I remember he would hold service rounds every Friday with all the students, residents, and faculty and teach us one case. It was an experience that not too many people would appreciate unless they were there."
In addition to his role as Chief of Medicine, Dr. Smith also served as its Chief of Infectious Diseases during his 48-year tenure at St. Michael's. Dr. Smith founded and chaired the internal medicine residency program at Seton Hall University School of Graduate Medical Education, and was a professor at the University of Medicine and Dentistry in New Jersey (UMDNJ). Dr. Smith also presided over the National Foundation of Infectious Diseases.
Published on 1/5/17
https://www.sgu.edu/wp-content/uploads/2017/01/Dr-Leon-Smith.jpg
256
550
smashm3233
https://www.sgu.edu/wp-content/uploads/2020/02/sgu-logo-grenada.svg
smashm3233
2017-01-05 20:05:40
2017-01-17 22:42:09
SGU Mourns Passing of Dr. Leon Smith, A Pioneer and Ambassador