Over 60 secondary and primary school principals and educators attended a two-day forum held by St. George's University in collaboration with Medgar Evers College (MEC) of the City University of New York and the Ministry of Education in Grenada, on January 28 and 29 at Allen Pensick Hall.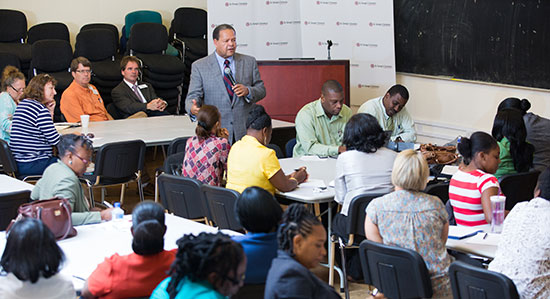 Spearheaded by Dr. Allen Pensick, Provost of SGU, and Mr. Eugene Pursoo, Director of the International Affairs Center at MEC, the event was to provide Grenadian instructors an opportunity to empower and improve the quality of education on the island as a whole by inviting the school leaders to hear and interact with prominent individuals from North America in education.
"The forum was incredibly well received," said Dr. Debbi Johnson, an Associate Professor in SGU's Department of Educational Services. "The best part was that the the principals walked away with real information that they could use and a real desire to use it."
Dr. Rudolph Crew, a nationally acclaimed educator whose career has spanned from the classroom to the chancellorship of America's largest school district, New York City Public Schools, shared new and fresh ideas with the local educators about the role of education in the community and the role of community in education.
"Dr. Crew's keynote address set the tone for the next two days of the forum," Dr. Johnson said. "He explained the relationship between a community and education, and challenged the principals to think about the importance of what they were doing and come up with plans and strategies for meeting their goals and objectives."
In addition to Dr. Crew, the principals heard from Dr. Sheilah Paul, Dean, School of Education, MEC, who spoke on the topic of the unique educational challenges in the Caribbean. Ms. Jenelle Bullen and Ms. Tamara Stuart-Barry also covered the use of instructional supervision in the classroom, and SGU's own Dr. Barbara Landon gave a presentation titled Becoming Brain Smart.
"Although Dr. Landon's speech ran about 20 minutes into lunch, there was no desire to leave; not one person from the audience seemed to mind because they were all listening attentively and fully engaged," said Dr. Daniel Flynn, Director of Faculty Development, SGU. "She addressed some deeply scientific information but in very accessible terms."
"To see 55 or so principals actively engaged in worksheets lets us know they are excited about the information they're getting and what they're doing," added Dr. Flynn "The forum has meaning and value to them and they were investing in this activity."
At the end of day two, the educators were asked to create a Principal's Wish List, where they discussed what they would like to see featured in future Principals Forums, what are some of the needs of the Grenadian educational community, and how SGU and its partners can better tailor future presentations to help them in tackling these challenges
Published on 3/8/16
https://www.sgu.edu/wp-content/uploads/2016/10/Principals-Forum-With-Group.jpg
299
550
Erin Shaw
https://www.sgu.edu/wp-content/uploads/2020/02/sgu-logo-grenada.svg
Erin Shaw
2016-03-08 17:59:59
2017-01-17 23:03:50
SGU Partners With Medgar Evers College to Host Principals Forum