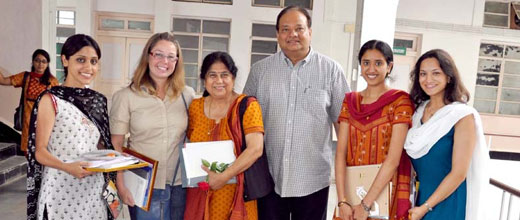 Krishna Institute of Medical Sciences University in Karad Hosts SGU Students
Aparna Balasubramanian, Chandana Das, Diviya Kaul and Jordan Watson have the distinction of being the first of many intended future groups of St. George's University (students to participate in SGU's India Medical Experience Selective. The students spent two weeks at the Krishna Institute of Medical Sciences University (KIMS) in Karad, India earlier this year. KIMS exposed the students to a facility dedicated to patient care and alternate systems of medicine in a secure and picturesque campus environment. In addition to its excellent facilities, KIMS' commitment to community outreach projects and patient care weighed heavily in its selection.
Dr. Bharti Bhusnurmath, India Selective Course Director, explained that students who participate in the selective benefit greatly as it provides "hands-on experience in clinical subjects, especially in history taking, physical examinations and all sorts of patient care which they studied here [SGU] ." She went on to explain that this selective places its participants at a unique advantage as they are exposed to clinical situations involving primary and tertiary care. "Unlike many other selectives," Dr. Bhusnurmath said, "students in this selective also have the opportunity to encounter the challenges and rewards of delivering healthcare in a rural setting."
Students praised the program and were enthusiastic about the experience. Throughout their two-week stay the students received individual attention and training during several rotations. They were provided access to attending physicians and department heads, and were allowed to participate in rotations with residents and interns in internal medicine, surgery, obstetrics/gynecology, radiology, ENT, ophthalmology/breast cancer specialty, oncology and pediatrics.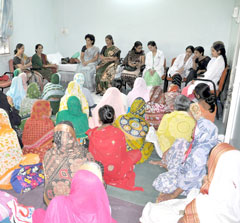 In addition to observing in the operating room, they also participated in a breast cancer therapy session and outpatient care. The number of patients visiting the hospital also meant that they were able to see some uncommon diseases, as one student stated, "Because of the magnitude of the hospital, many rare diseases which appear in textbooks and classes can be seen on a daily basis in patients there, providing chances for the application of book knowledge."
They were impressed by the doctors and staff who hosted them and in particular, Dr. Suresh Bhosale, Vice Chancellor and also Chair of Surgery at KIMS, who inspired them to show compassion for their patients. One of the students commented, "As medical students you always hear that you will not be able to give passion to your patients and he [Dr. Bhosale] just totally went against it and said 'no' you do give passion that is why we all want to be doctors."
They were unanimous in praise for KIMS and grateful to SGU for affording them this unique opportunity. One of the participants, Diviya Kaul stated, "Going to India and interacting with patients has changed how I now conduct hospital visits; I already know what questions to ask and it is helping in making the transition from thinking like a student to a clinician." Others reported, "The hands-on training, including drawing blood and assisting in deliveries and surgeries is a great way to reinforce everything learned through coursework at school while preparing for whatever comes ahead. This means doing better in the basic sciences, on the USMLE, or preparing for life as a physician."
The central view of the students and Course Director is that the selective provides an extraordinary experience in clinical medicine, the day-to-day workings of a hospital and practical insight into being a doctor. Additionally, the selective provided an opportunity for the students to experience first-hand how health care systems are administered in a different country especially in a setting with few resources which is required to deliver care to a large volume of patients.
A second group is currently participating in this selective and is expected to equally benefit from the experience at KIMS which will help formulate their sense of clinical judgment that will serve them well in the future as practicing physicians.
https://www.sgu.edu/wp-content/uploads/2016/10/news-india-medical-experience-selective-main1.jpg
220
520
VS
https://www.sgu.edu/wp-content/uploads/2020/02/sgu-logo-grenada.svg
VS
2010-01-26 17:50:23
2017-01-18 01:44:51
SGU Students Get Hands-On Training in India Medical Experience Selective