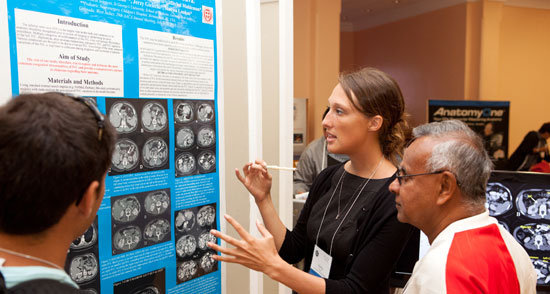 Over 200 anatomists, surgeons, medical educators, and students attended the 29th Annual conference of the American Association of Clinical Anatomists (AACA) at St. George's University in Grenada from July 8 to 13. Grenada is only the fourth country outside of the United States to host this conference, following Canada, England and Austria.
Dr. Marios Loukas and the St. George's University team delivered a comprehensive program with guest lecturers attending from around the world. In addition to the anatomical and educational symposia, St. George's University medical students delivered eight oral and eight poster presentations, sweeping the clinical awards. Winning the best student poster presentation was entering term 5 student Christopher Wear with Alesha Prior, also entering term 5, winning the best student oral presentation. Capping off the student presentations was the award for the best student paper published in Clinical Anatomy. The Marion Moore Blue Box Award was presented to Zachary Klaassen for his paper, "Anatomy of the ilioinguinal and iliohypogastric nerves with observations of their spinal nerve contributions". Closing out the conference was a well-received postgraduate course on ultrasound procedures followed by a lively discussion on whether the growing use of ultrasound technology in clinical settings calls for modifications in the teaching of anatomy.
Honorable Tillman Thomas, Prime Minister of Grenada commented on the gathering of a body of distinguished medical professionals in Grenada, saying, "This gathering of the American Association of Clinical Anatomists here in Grenada is a special experience for St. George's University and our country. The world has benefited immensely from an explosion in clinical advances, diagnostics and technological enhancements in recent times. Your own research perspectives and conclusions have contributed to this growing knowledge pool."
In addition to the prime minister of Grenada, conference speakers included Dr. Charles R. Modica, Chancellor of St. George's University; Dr. Allen Pensick, Provost of St. George's University; Dr. Anne Agur, President of AACA; Dr. Jeffrey Laitman, President of American Association of Anatomists (AAA); Dr. George Mitchell, Grenada's Chief Medical Officer; and Dr. Marios Loukas, Chair of St. George's University's Department of Anatomical Sciences and Dean of Research. As a supplement to the scholarly presentations, conference attendees experienced Caribbean Spice Isle culture with samples of Grenadian food and planned events showcasing Grenada's natural environment that included hiking, tours and snorkeling.
"I am happy that St. George's was able to host this event, bringing together clinical anatomists from around the world to the campus of this unique university," commented Dr. Allen Pensick, in his address to participants. "At St. George's University, the anatomy program has always been our anchor and we've built our medical program on it. I encourage the American Association of Clinical Anatomists (AACA) and the American Association of Anatomist (AAA), to continue impacting the lives of people and medical organizations around the world."
About the American Association of Clinical Anatomists
The AACA is an organization focused on advancing the 'science and art of clinical anatomy.' It encourages research and publication in the field and maintaining high standards in the teaching of anatomy. The organization caters to individuals of various backgrounds involved in research, clinical practice, clinical research, teaching in accredited colleges and universities, administrative or other experience in the field of anatomy. St. George's University has been part of the AACA for approximately 15 years.
https://www.sgu.edu/wp-content/uploads/2016/10/news-aaca2012.jpg
294
550
jrichardsink
https://www.sgu.edu/wp-content/uploads/2020/02/sgu-logo-grenada.svg
jrichardsink
2012-07-27 19:39:22
2017-01-18 00:48:43
SGU Students Sweep Clinical Awards at 29th Annual Conference of the American Association of Clinical Anatomists