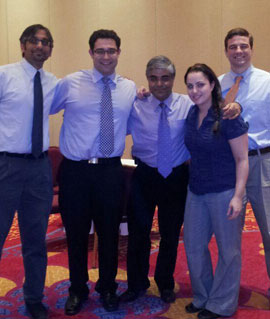 On March 2, a group of SGU students performing their clinical rotations at Saint Barnabas Medical Center in Livingston, NJ, participated in the 2012 New Jersey American College of Physicians (NJ ACP) Student Challenge Bowl, taking first place by outdueling three teams from the University of Medicine and Dentistry of New Jersey (UMDNJ).
The SGU team consisted of Paul Hulsberg, Eddie Martins, Marci Handler and Siddharth Joshi, with Craig Brown and Preeti Narayana serving as alternates. SGU defeated three teams from UMDNJ's New Jersey Medical School, School of Osteopathic Medicine, and Robert Wood Johnson Medical School.
"They have proven what we have always known, that SGU students are as good as students from any other school," said Dr. Ashish Parikh, Program Director of the Internal Residency Program at Saint Barnabas.
In the challenge that Dr. Parikh likened to Jeopardy, each group was asked to answer 25 questions and was given 30 seconds to enter its response. Topics ranged from gastroenterology and endocrinology to physical exam signs and current events in medicine, and each question was assigned a point value between 10 and 30 points.
The competition, held at the annual regional NJ ACP chapter meeting, concluded with the final Jeopardy round, during which teams were shown a succession of four images of patients and asked to identify the different types of erythemas afflicting them. SGU was the only team to answer all four correctly, firming up its Challenge Bowl victory. The quartet prevailed despite being the only four-person team; the other schools' teams were comprised of five students.
"It demonstrated first-hand the simple but immutable merits of hard work, teamwork and perseverance," Joshi said.
Joshi, a fourth-year medical student, will begin his internal medicine residency at New York Methodist Hospital in July 2012, while Narayana matched into Internal Medicine at the State University of New York Health Science Center, also in Brooklyn. The other four participants are third-year students who are amid their surgery clerkships and will apply for residency in 2013.
https://www.sgu.edu/wp-content/uploads/2016/10/news-students-challenge-bowl2012.jpg
319
270
jrichardsink
https://www.sgu.edu/wp-content/uploads/2020/02/sgu-logo-grenada.svg
jrichardsink
2012-04-09 19:40:18
2017-01-18 00:59:30
SGU Team Captures First at NJ Student Challenge Bowl