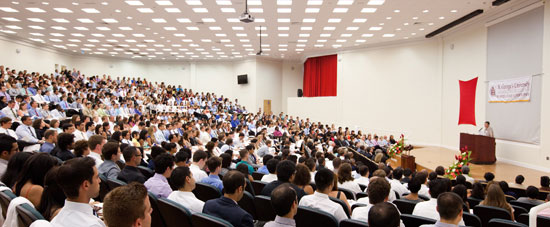 St. George's University welcomed students to the School of Medicine Class of 2015 at its White Coat Ceremonies where 647 entering students in Grenada and 68 entering students at Northumbria University in the UK were cheered on by proud family members. Students were welcomed to the profession and to the University by faculty, staff, students and dignitaries. The students welcomed at Northumbria join SGU as part of the Keith B. Taylor Global Scholars Program and will spend their first year of basic sciences at Northumbria University before joining their classmates in Grenada.
At both ceremonies the students donned white coats which symbolize their entry into the medical profession and their commitment to upholding the duties and trust associated with practicing medicine and medical training—a commitment they reaffirmed with the recitation of the Oath of Professional Commitment at the ceremony.
Delivering an inspiring keynote address at the Grenada ceremony, Iona Heath, MD, CBE, MRCP, PRCGP, spoke on courage and joy, and how both are significant aspects of practicing medicine. Sharing insightful anecdotes from her own professional history, Dr. Heath counseled incoming students on having the courage to come close enough to patients that they feel seen and heard, to trust patients' accounts of their own experience, to doubt the known, to tolerate uncertainty, and to be an advocate for patients. She also listed the joy and privilege of relating to the whole of humanity, listening to accounts of amazing courage and endurance, being able to make a difference in the life of her patients, having colleagues and friends around the world, and the joy which comes from the sheer intensity of the profession. In closing she wished the students success and "the courage that I have sometimes lacked and the joy that I have found and more".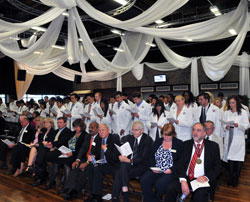 Andrew James Johnson, MB BCh, FRCP delivered the keynote address at the Northumbria ceremony where he drew a unique parallel between the medical profession and theatre. Using the example of Shakespeare to demonstrate the communication needs between doctor and patient, Mr. Johnson imparted wisdom to the incoming students on the importance of avoiding jargon and using words that can be easily understood by patients. He also stressed the importance of reading between the lines when discussing health care with patients, relaying on body language and demeanor to understand a patients' deeper anxieties. In closing he noted: 'The smile as the patient leaves is the medical equivalent of the cheer of the audience in a theatre…. Medicine is a mix of art and science – communication is the art that makes science worth it for all!"
St. George's University welcomes the incoming School of Medicine class in Grenada and at Northumbria and congratulates them on their first step in this noble career.
https://www.sgu.edu/wp-content/uploads/2016/10/news-2011-fall-som-wcc2.jpg
227
550
VS
https://www.sgu.edu/wp-content/uploads/2020/02/sgu-logo-grenada.svg
VS
2011-09-13 17:55:36
2017-01-18 01:09:30
SGU Welcomes Fall 2011 School of Medicine Class in Grenada and the UK