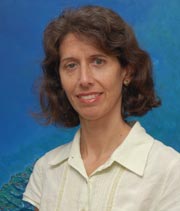 St. George's University's Dr. Cheryl Macpherson, Chair, Department of Bioethics, has recently been elected President of the Bioethics Society of the English-Speaking Caribbean (BSEC).
Dr. Macpherson has served the BSEC as Vice-President since its inception in May of 2006 when the BSEC was established to create and support a consensus of ethics and professionalism in health care throughout the Caribbean region.
The need to increase knowledge and understanding about bioethical issues in the region is reinforced by ensuing social and economic implications within the English-speaking Caribbean community-at-large. The BSEC's mission is to facilitate this understanding by serving as a valuable and informed resource. Its growing membership of over 100 experts from 12 countries includes physicians, medical educators, public health specialists and researchers; each play an integral role in fostering a dialogue about bioethical issues between professionals and the general public.
The BSEC has positioned itself to offer guidance and support through discussions, consultations, publications, and workshops that address regional concerns regarding ethics and professionalism. It has established several avenues to help promote its mission. Through its web site, various forums and events, a newsletter titled "Bioethics Caribe" and a public relations effort, progress is being made.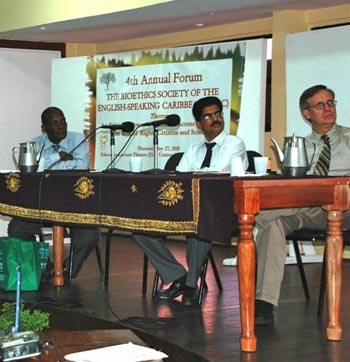 The BSEC's fourth annual forum held in May, 2010, at the University of Guyana is one of the organization's most high profile and successful events. Over 100 students and professionals attended, gaining knowledge and insight on the topic "An Ethical Pathway to Universal Access to Health: The Role of Rights, Citizens, and Science." In addition to the many stimulating presentations, a workshop was held on standard-setting across the Caribbean. It focused on implementing a health care ethics committee at Guyana's Georgetown Hospital and a research ethics committee (IRB) at the University of Guyana.
Dr. Macpherson joined St. George's University in 1993. She has served as Professor and Chair of the Bioethics Department at St. George's University School of Medicine since 2003. Dr. Macpherson teaches bioethics to first year medical students, a selective course in research ethics, and contributes to a course at Uppsala University that deals with human rights, gender, and culture in medicine.
In 1994 Dr. Macpherson was a co-founder of the first Institutional Review Board (IRB) in Grenada based in the Windward Islands Research and Education Foundation (WINDREF). It expanded into the SGU IRB in 2002. The SGU IRB is registered with the Office for Human Research Protections of the US Department of Health and Human Services. Its members ensure that all human research proposed under the auspices of SGU or referred for our review is conducted according to the highest ethical standards. Professor Macpherson is widely published in the field of bioethics but has a special interest in Caribbean perspectives on palliative care, pain relief, and the health impacts of climate change.

https://www.sgu.edu/wp-content/uploads/2016/10/news-Cheryl-Macpherson-Elected-President-newsstory.jpg
211
180
VS
https://www.sgu.edu/wp-content/uploads/2020/02/sgu-logo-grenada.svg
VS
2010-06-08 14:20:40
2017-01-18 01:36:32
SGU's Dr. Cheryl Macpherson Elected President of BSEC