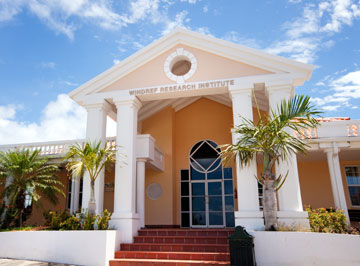 St. George's University and the Windward Islands Research and Education Foundation (WINDREF) officially pledged their support of the Global Virus Network (GVN) at September's annual GVN meeting in Moscow, Russia, with a donation of $100,000 to support the collaboration. GVN is dedicated to identifying and addressing global threats, performing international collaborative research, and training young medical students and virologists to do the same.
"This is a perfect example of a partnership that will benefit all parties, as WINDREF will benefit from IHV's deep expertise in viruses such as HIV and HTLV – which directly affect Grenada, and from GVN's global reach to expertise in these and all other viruses," said Dr. Robert Gallo, Co-Founder and Scientific Director of GVN and Director of IHV. "At the same time, GVN and IHV will benefit from WINDREF's provision of unique research opportunities and St. George's University's worldwide base of alumni physicians and researchers."
"We are excited by the partnership as partnerships in research and educational are essential when pursuing excellence in these areas," added Dr. Calum MacPherson, Vice Provost for International Program Development, Dean of Research, and Director of WINDREF.
The purpose of the collaboration is to support a range of activities aimed at reducing the burden of disease from viruses facing Caribbean nations. Of the partnership, Dr. Charles Modica, Chancellor and Co-Founder of St. George's University, said, "We are excited to join forces with the IHV and GVN to address viruses, such as Human T Cell Leukemia Virus (HTLV) that disproportionately affect populations in the Caribbean."
Over the next three months, GVN, IHV, WINDREF, and SGU will develop an action plan on outreach activities and training opportunities for future medical virologists. The first joint activity includes a workshop for journalists on current viral challenges. The workshop aims to bring virologists and journalists from the Caribbean region together in an academic setting and will be hosted on the SGU campus. Expected lecturers include GVN members from SGU, IHV, and the Karolinska Institute.
"We want to empower people with understanding of viruses so that they can protect themselves and their families from infections. Journalists are key in this initiative," said GVN President Sharon Hrynkow.
About Global Virus Network (GVN)
The Global Virus Network (GVN) is a non-profit, 501(c)(3) organization, comprised of leading medical virologists from more than 20 countries. The GVN's mission is to combat current and emerging pandemic viral threats through international collaborative research, training the next generation of medical virologists, and advocacy. For more information, contact Nora Grannell at ngrannell@gvn.org and visit www.gvn.org. Follow us on Twitter @GlobalVirusNews.
About Institute of Human Virology (IHV) at the University of Maryland School of Medicine
Formed by co-founders Dr. Robert Gallo, Dr. William Blattner, and Dr. Robert Redfield in 1996 as a partnership between the State of Maryland, the City of Baltimore, the University System of Maryland and the University of Maryland Medical System, IHV is an institute of the University of Maryland School of Medicine and is home to some of the most globally recognized and world renowned experts in all of virology. The IHV is the first center in the United States to combine the disciplines of basic research, epidemiology and clinical research in a concerted effort to speed the discovery of diagnostics and therapeutics for a wide variety of chronic and deadly viral and immune disorders – most notably the HIV virus that causes AIDS.
Global Virus Network and Institute of Human Virology Awarded $100K from the Windward Islands Research and Education Foundation
https://www.sgu.edu/wp-content/uploads/2016/10/WINDREF-team-target-obesity-main.jpg
266
360
VS
https://www.sgu.edu/wp-content/uploads/2020/02/sgu-logo-grenada.svg
VS
2013-11-22 17:58:32
2017-01-18 00:08:43
SGU's Research Institution Joins International Team of Medical Virologists Targeting Global Threats