On June 12, 2010, St. George's University School of Veterinary Medicine (SGUSVM) welcomed 109 new graduates from 10 countries to the profession of veterinary medicine at its commencement exercises held at Alice Tully Hall, Lincoln Center, New York.
Dr. Allen Pensick, Provost of St. George's University, welcomed the Class of 2010 graduates and reminded them that they were at the beginning of their journey and not the end, encouraging them to continue the life-long process of learning."Today is about recognizing your ability to embrace the opportunities ahead of you and we join with your family and friends in applauding you," he said. Dr. Pensick recognized the Honorable Manniram Prashad, Minister of Tourism, Industry and Commerce, Guyana who was among the faculty, parents, friends, and well-wishers present to witness the ceremony.
In addressing the graduating class Dr. Charles Modica, Chancellor, St. George's University stated, "I have the utmost respect for you and what you are about to do with your lives." He acknowledged that through their actions, the School of Veterinary Medicine students have taught him of the powerful connection between humans and animals. The Chancellor congratulated them on their achievement and expressed confidence in their ability to make a difference in the world.
During his remarks, Dr. Raymond Sis, Dean, School of Veterinary Medicine congratulated the graduates on reaching their goal. He also made a special presentation to a faculty member and a graduate. Dr. Rhonda Pinckney, Associate Dean of Students, School of Veterinary Medicine, was recognized for her outstanding contribution to the profession and to St. George's University and was presented with a medal as a symbol of appreciation. Brittany King, a member of the graduating class, received a medal in recognition for her contributions to global one health medicine.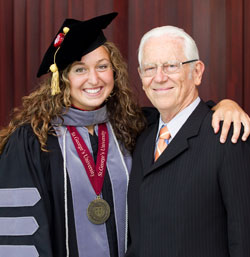 As a former class representative for the Student Affiliate of the American Veterinary Medical Association (SAAVMA), Brittany King was integral in the launch and continued success of the One Health One Medicine clinics held throughout Grenada. The One Health One Medicine concept focuses on the convergence of animal, human, and ecosystem health; addressing them collectively is critical to improved health care worldwide.
St. George's University established the School of Veterinary Medicine in 1999, offering a broad range of opportunities in the veterinary medical field. The SGUSVM is listed with the AVMA and offers a superior global veterinary medical program which focuses on community service, hands-on training, and clinical research. Upon graduation from the four-year Doctor of Veterinary Medicine degree program students are licensed to practice in 42 States in the USA and other countries, including Canada, Ireland, and Australia.

https://www.sgu.edu/wp-content/uploads/2016/10/news-2010-svm-graduation.jpg
179
520
VS
https://www.sgu.edu/wp-content/uploads/2020/02/sgu-logo-grenada.svg
VS
2010-06-28 14:47:10
2017-01-18 01:35:29
SGUSVM Recognizes 109 New Graduates at Commencement Ceremony