The Educational Computing Team (ECT) at St. George's University launched the Spring 2017 Series of its Teaching with Technology Tuesdays (TwTT) with its first-ever Tech Day on March 10, 2017 at Allen Pensick Hall. With the theme "Innovative Use of Technology in Teaching and Learning," Tech Day centered on social media and video in education, 3D technologies, and the use of augmented/mixed reality in medical education.
"Tech Day provides an opportunity for participants to actually see, touch and play in what we call our sandbox," explained Shereene Twum-Barimah, Educational Technology Specialist. "At our past TwTT launches and workshops, our audience expressed an interest in interacting directly with the various technologies our presenters were showcasing. With our introduction of Tech Day, everyone now has a chance to physically connect with a variety of different technologies on display before them, including 3D printing and several virtual and augmented reality devices."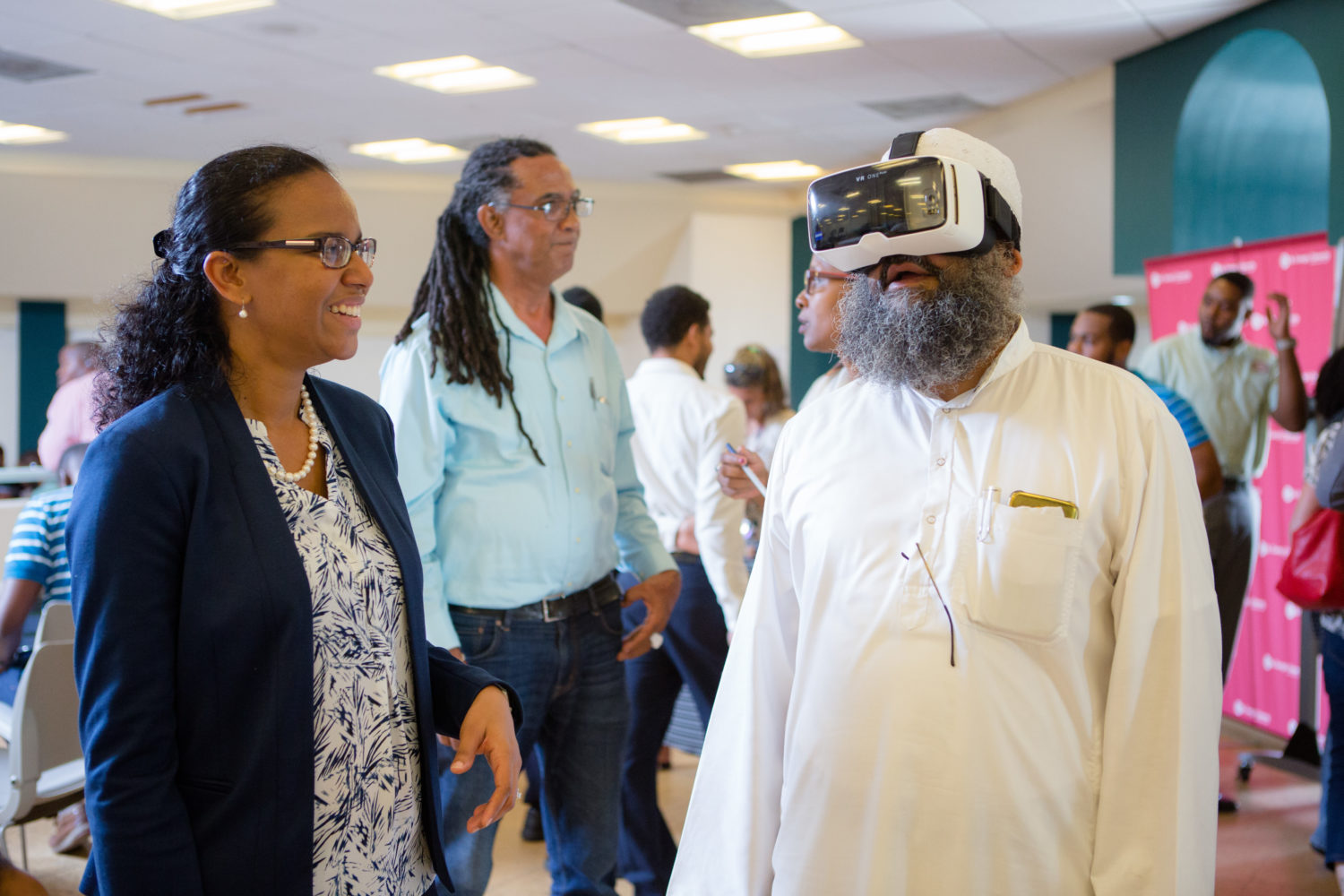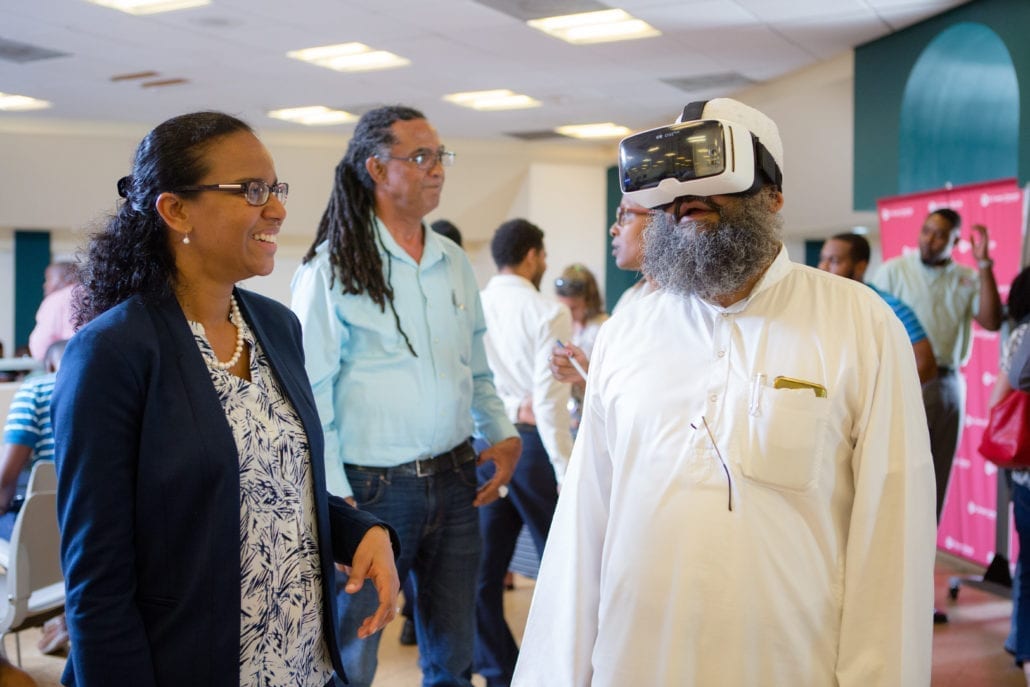 With the prevalence of mobile devices, students are learning anywhere and everywhere. According to Ms. Twum-Barimah, teachers all over the world can easily record their lectures and lessons and make them available for students to consume on multiple platforms and non-traditional classroom environments. As a result, students can come prepared to have more meaningful discussions in the classroom with their instructors and peers. Technology has been modifying and redefining the face of education for years now and is getting even more innovative. The classroom is no longer defined by the walls the students are sitting within. Today's students will now need the knowledge and skills to navigate these new learning environments.
In his presentation, "Using Augmented/Mixed Reality for Medical Education," guest speaker Ted Dinsmore, Business Technologist and Co-Founder of SphereGen in Connecticut, focused on the evolving work in applying technology to learning in the medical education arena. He covered the basics of understanding what is virtual reality, augmented reality, and mixed reality, and how it is used throughout life currently and what the future of this technology looks like. Additionally, Mr. Dinsmore discussed how medical schools are using this technology and how it is being used in hospitals by doctors from surgery to collaboration boards. Lastly, attendees were given a demonstration of how the anatomy of a heart can be taught using a mixed reality device with the assistance of Dr. Mark Clunes, Assistant Dean of Basic Sciences.
"My presentation is all about getting people to try out the new technology. If you've played Pokémon Go, you've used augmented reality," stated Mr. Dinsmore. "We live in a physical world, but today's kids and students live in a virtual world in that game where they're enjoying that experience of being in their environment. So when we overlay the virtual world over the physical world, that is what we call augmented reality.
"Mixed reality is the blending of physical reality with a virtual program, a see-through effect which can be achieved through the use of many different devices on the market today," added Mr. Dinsmore. "Movies such as 'Minority Report' were designed off of this technology. And now the profits from these movies are funding a lot of this technology today. One such device, the HoloLens, provides an untethered full physical PC on your head with all the technology you need in one unit."
In addition to his more than 20 years in the field, Mr. Dinsmore's company has developed mobile and web-based applications for SGU. He is also the co-author of the book "Partnering with Microsoft." Other Tech Day presentations featured were "Video in Education" by rich media team members Dari Twum-Barimah and Kellidon Niles, and "3D Technologies" by Jessica Holland and Wes Price; Alyssa Bierzynski, an Instructor in the Department of Humanities and Social Sciences, also gave a lively presentation on Social Media in Education, illustrating how easy it is to enhance the learning experience by incorporating elements of social media into the classroom.
"For more and more of our students, virtual reality is becoming the only reality they know," said Ms. Bierzynski. "Many of today's students have no idea what it was like to go to an encyclopedia for information. For today's students, their source of information is Google."
St. George's University Educational Computing Team is committed to providing quality training and support to the faculty, staff and students at the University. Tasked with improving methods of teaching and learning at SGU, it promotes greater utilization of cutting-edge technology, so that the highest quality of education can be provided to the students that attend this institution.
https://www.sgu.edu/wp-content/uploads/2017/04/20170310_0792-WEB.jpg
500
845
dbriggs
https://www.sgu.edu/wp-content/uploads/2020/02/sgu-logo-grenada.svg
dbriggs
2017-04-03 14:33:20
2017-04-10 20:40:50
Social Media Impact and Mixed Reality Explored at St. George's University's First-Ever Tech Day