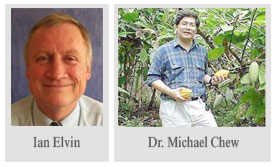 The KBT Global Scholars program is designed for students who wish to spend all or part of their professional lives in developing nations or in underdeveloped areas of developed nations. SGU has introduced this special public lecture series to reinforce the international aspects of the KBTGSP.  One or two lectures a term will be presented by professionals well versed in a variety of health related global issues.
On September 20th at the Newcastle Upon Tyne campus of NU, Sport Northumbria kicked off the series with a lecture on sport and health.  Ian Elvin, Director of Northumbria University Sport addressed his audience with a presentation titled "Developing Community Health through Sporting Partnerships: The Global Vision."   Professor Elvin believes strongly in the power of sport as an instrument of both personal development and social change.  Teaching the rudiments of health can be a real resource for developing communities.   Through his efforts, Sport Northumbria is involved in a number of local and international community sport projects,  providing a unifying platform in areas which include the Caribbean and Zambia.
Now ten years old, Sport Northumbria offers a myriad of competitive and social sport opportunities to the international community of Northumbria University (NU).  Ian Elvin has worked at NU since 1979; he was Program Head for Sport Management before becoming Director of University Sport in 1995.  In this capacity he is responsible for the planning, delivery and management of all sport facilities, programs, clubs and services at NU.
Ian was a Board member of the European Association of Sport Management from 1992 – 2003 and has been Chairman of Sport Newcastle since its inception.  He is also Chairman of the English Student Rugby Union's Development Committee.
The second lecture was given on October 22nd by  Dr. Michael Chew, a Science Program Officer at the Wellcome Trust – one of the largest biomedical research charities in the world.  He presented a lecture on "Diseases of Poverty: The Good, The Bad and the Ugly."  Dr. Chew's life achievements and focus have been devoted to studying those diseases which target people who are living in poverty.  Many of these diseases can be prevented with a community's dedication to public health issues.
Dr. Chew's responsibilities include receiving and processing research grant applications in the areas of immunology and infectious disease, advising scientists about their research and careers in this area, and ensuring that funds awarded by the Trust are used appropriately.
Dr. Chew travels extensively, usually to remote and impoverished places, as most of these research projects are conducted in the developing world where 'diseases of poverty' such as malaria, TB and HIV are pervasive.  Prior to joining the Trust in 1997, Dr Chew worked as a research scientist at the Institute of Child Health, London, and Imperial College, London after completing his PhD in Parasitology at Imperial College in 1981.
SGU and NU look forward to the continued success of the KBTGSP lecture series which will provide students with information on public health issues much needed in today's globalized society.
Published 11/13/2007
https://www.sgu.edu/wp-content/uploads/2016/10/Ian-Elvin-Dr-Michael-Chew.jpg
167
275
smashm3233
https://www.sgu.edu/wp-content/uploads/2020/02/sgu-logo-grenada.svg
smashm3233
2007-11-13 16:27:54
2017-01-18 02:42:04
Special Public Lecture Series at the KBT Global Scholars Program in UK