Aid in Reducing the High Morbidity and Mortality Rate Linked to Cardiovascular Disease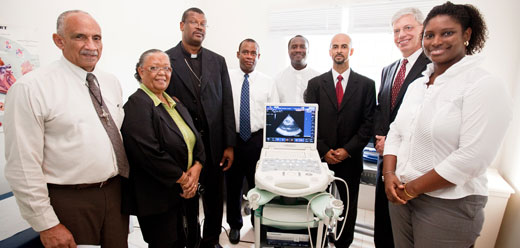 A proud moment for St. George's University was the dedication of its Cardiology Centre on November 22. This opening of the centre, facilitated by the partnership between the Grand Anse Diocese of the Roman Catholic Church, has been much anticipated. Now cardiology services will be available in an easily accessible, central, and disability-friendly 2400 sq. ft. facility. The medical centre will also house the University's Visiting Cardiology Program, which has historically provided quality health care at no cost to patients.
The cardiology center offers cardiac consultations, electrocardiography (ECG) testing, two-dimensional echocardiogram, exercise stress tests, and pacemaker interrogations. St. George's alumni as well as non-alumni will continue to facilitate pacemaker implantations and interrogations at Grenada's General hospital and conduct further testing and services through the Visiting Cardiology Program. The Cardiology Centre's purchase of a new echocardiogram machine and exercise stress testing equipment with PC based software was made possible by a generous $56,000 USD donation from local electricity company, Grenada Electricity Services Limited (GESL).
Dr. Johansen Sylvester, Coordinator of the Visiting Cardiology Program as well as 2,000 graduate of St. George's University, was instrumental in seeing the Cardiology Center come to fruition. As chair of the dedication ceremony, his speech acknowledged the presence of many medical professionals and guests who had a hand in making this dream a reality, including Dr. Ralph Cardamone.
A St. George's graduate from the Class of 1983, Dr. Ralph Cardamone remembered his first clinic. "My heart patients walked uphill to the hospital and stood in the sun to be attended to. We've certainly come a long way. Things happen when we have a dream and are willing to work to make that dream reality." Dr. Cardamone expressed his love for the country that helped him build his career "I have a great passion to give back to the country that has given me so much." He also expressed his hope that organizations that provide heart care in Grenada — such as the Children's Health Organization Relief and Educational Services (CHORES), Grenada Heart Foundation, and World Heart Organization (WHO) —will collaborate and combine efforts and resources, especially with such things as centralized patient records.
Dr. Allen Pensick, Provost of St. George's University, commented, "Today is really a happy day for us at SGU with the dedication of this very important facility, which will continue to provide quality care at no charge." Dr. Pensick commended Frs. Charles, Harris and Bishop Darius on their work with the program. "This stands as evidence that when we work as a team dreams can become reality."
Secretary of St. George's Board of Trustees, Mr. Patrick Adams touched on a more personal note during the dedication. "Having undergone a triple by-pass operation in 1980, I can personally testify to the part modern technology has played in keeping me alive to be able to do more of the things I want to do." He expressed his hope that the Cardiology program would branch into other specialties and that the program would bring to Grenada a level of medical care that would be on par with the United States.
Dr. Sylvester wishes to thank St. George's University, GESL, the Government of Grenada, and other benefactors (many of whom prefer to remain anonymous) that assisted in raising funds for the program as well as contributing personally. He is also grateful for Mr. Roy Hall, who provided invaluable consultancy in engineering. Lastly, Dr. Sylvester wishes to acknowledge St. George's University student group, Emergency Medicine Club, for its kind donation of EC $5,500 which will go towards the purchase of cardiac event recorders.
If you are interested in becoming a Visiting Cardiologist, please contact Dr. Johansen Sylvester at
473-405-3930 or jsylvester@sgu.edu .To see more pictures of the Dedication of the Cardiology Centre, please visit the "Photos" tab at www.facebook.com/StGeorgesU.

https://www.sgu.edu/wp-content/uploads/2016/10/news-new-cardiology-centre.jpg
248
520
VS
https://www.sgu.edu/wp-content/uploads/2020/02/sgu-logo-grenada.svg
VS
2010-12-23 15:32:11
2017-01-18 01:23:33
St. George's Dedicates New Cardiology Centre