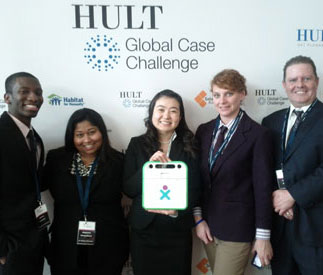 Hailing from more than 140 countries worldwide, St. George's University's faculty and student body are accustomed to working together to solve problems that persist on a worldwide level.  That's why the theme for the 2012 Hult Global Case Challenge – global poverty – was perfect for SGU's participation.
On February 24 and 25 in Boston, the five-person St. George's team, all of whom are students in the  MBA in Multi-Sector Health Management Program,  competed against some of the top universities and colleges in the world at the third annual event. SGU was the only Caribbean institution selected to participate in any of the five international cities that hosted regionals: Boston, San Francisco, London, Dubai, and Shanghai. The winning team from each challenge track – Education, Energy, and Housing – in each region was granted an all-expense-paid trip to the global final in New York City on April 26. A $1 million research grant will be given to ultimate winner in each track.
The St. George's team – Team Nathan – was comprised of Arian Robert, BSc; Nathan Kwablah, MD; Stephanie Nanayakkara, MD; Theodor Gottlieb, MD; and Yon Chong, MPH, MD. St. George's was not selected as the Education challenge track winner – Carnegie Mellon University took home top honors – but it was nevertheless a tremendous experience for the SGU team.
"Once we got there, we realized what an accomplishment it was to even make it to regionals," Chong said. "We didn't get to move on to the finals, but we learned some valuable lessons that we can take back to our MBA program studies."
Teams in the Education track were presented with the case challenge "One Laptop per Child," which asked the group to devise a business plan to deliver 10 million laptops to 10 million children in five years.  SGU's three-pronged approach included bringing mobile schools to rural villages, setting up laptops with webcams to create global classrooms and international friendships between students, as well as crowd sourcing. The team had approximately 10 minutes to present its model.
After submitting an essay explaining why it should be selected to present at the Challenge, St. George's was one of just 18 institutions worldwide to be selected for the Boston region's Education Track.  In addition to Carnegie Mellon, SGU's competition included the Harvard Business School, the Yale School of Management, the Columbia University School of Social Work and the University of Chicago Booth School of Business. While their competitors were part of full-time MBA programs and regularly met face to face, the SGU group is earning their MBAs part-time and coordinated their Hult presentation strictly online. They employed their global education from SGU and depth of experiences to address the One Laptop per Child case.
"The way we analyze things in the health care field, that's something we brought forward, specifically our international experience," said Kwablah. "Everyone on the team is from a different place; our experiences are different and we come from different educational systems. Our different backgrounds were the basis for our application and one of the reasons why we got a chance to be able to compete."
Chong has worked in rural villages in Honduras and Peru as part of her medical studies, and she lived in Tanzania for her public health selective. The global classroom idea was derived from training in southern California, where she helped thousands of residents gain access to health care.
"At SGU, relating with people from other cultures opens you up and puts you at an advantage," Chong added. "We used that whole concept of learning outside the textbook, which you get at SGU, and came up with the global classroom idea."
https://www.sgu.edu/wp-content/uploads/2016/10/news-mba-hult.jpg
275
323
jrichardsink
https://www.sgu.edu/wp-content/uploads/2020/02/sgu-logo-grenada.svg
jrichardsink
2012-03-28 19:32:38
2017-01-18 01:00:35
St. George's MBA Students Among Elite Business Schools at 2012 Hult Global Case Challenge