Hosts Four Day Clinic in Remote Panama Town with Non-Profit Committed to Providing Medical Care in Developing World
In an already remote town in Panama, Dr. Ravi Chokshi, SGUSOM '12, and his colleagues from Floating Doctors, a not-for-profit organization committed to providing acute health care services and supplies to the developing world through mobile clinics, prepared for their next venture – a five-hour trek on foot to La Sabana, an even more isolated village in the mountains that was without access to clean running water or to basic health care.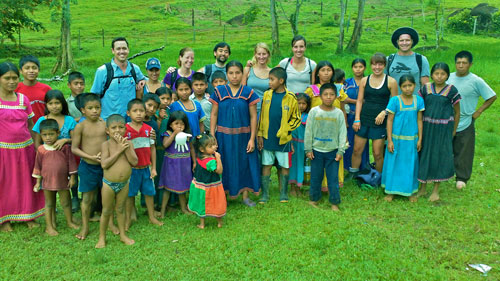 During its four-day clinic in the village, whose residents Dr. Chokshi called "outsiders in their own country," Floating Doctors came to the aid of dozens of La Sabana villagers. The experience wasn't only life-changing for them but for the doctors providing the treatment.
"It made me fall in love with medicine even more," Dr. Chokshi said. "Every day there was so, so useful and we treated a lot of people. Training in the US is so rigorous and there's so much paperwork, and sometimes you forget that medicine is cool and what we're doing is really important. What you learn in medical school is so useful and the knowledge we have can do so much and help so many people."
La Sabana was just one of many visits made in Central America by Floating Doctors, which was formed in 2008 by Dr. Benjamin LaBrot, his sister, Sky, and rehabilitation therapist Noah Haas, who make up the organization's full-time staff.  It also employs rotating volunteers from all over the world; Dr. Chokshi's group included volunteers from Australia, England and Sweden. Their roles ranged from dietitian to physical therapist and nurse.
Dr. Chokshi, who began his Obstetrics and Gynecology residency at Hahnemann University Hospital in Philadelphia in July, was able to address/assess women's health care needs in La Sabana.
"Women's health care is completely underserved in regions like this," Dr. Chokshi said. "They aren't at all aware of complications they may be having with their pregnancy. Even when a child is delivered normally, there's a 5 to 10 percent infant mortality rate because they die of common childhood illnesses or related dehydration."
For all treatments, Floating Doctors made do with whatever equipment and supplies it had on hand. In the case of one 12-year-old, Dr. Chokshi and Co., performed a tropical echocardiogram using a portable ultrasound, a test that would have cost $3,000 to $5,000 in the US. Their findings made it clear – the boy had a hole in his heart.
"I had examined 20 chests that day, listened to 20 hearts. But only his jumped at me as I lifted his shirt," Dr. Chokshi wrote on his blog entry for FloatingDoctors.com.
Floating Doctors set up an appointment with a pediatric cardiologist in Panama City. The organization pledges not only to establish a connection with remote communities but maintain them long-term.
"They don't want to do something once and never come back," Dr. Chokshi said. "That's not really health care. They want to build lasting relationships with all these communities so they begin to trust them more."
In addition to receiving his education from an international faculty in Grenada, he is confident that, throughout his career, wherever he may go, he'll always draw from his volunteer opportunity with Floating Doctors. Dr. Chokshi hopes to join up with the group once again when able.
It was a very valuable experience," he said. "It was as international as medicine gets to me. It made me a better person and a better doctor.
https://www.sgu.edu/wp-content/uploads/2016/10/2012-news-floating.jpg
281
500
jrichardsink
https://www.sgu.edu/wp-content/uploads/2020/02/sgu-logo-grenada.svg
jrichardsink
2012-09-25 18:55:02
2017-01-18 00:44:25
St. George's School of Medicine Graduate Becomes Floating Doctor